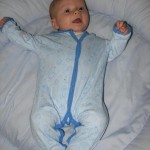 Three months have just flown by! I can hardly believe my little one has already reached this milestone.
I've noticed:
– His head is becoming stronger every day. He can move it side to side.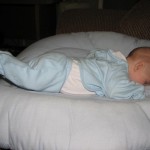 – We are trying to create conditions for rolling over so I'm practicing by putting him on his tummy on the doughnut. When I turn him back over I get little smiles and giggles.
– Feeding and sleeping have also changed, but it's difficult to say exactly how, because we don't have a routine and I don't keep track. However we normally only have the one wake up at night and he is awake during the day when he doesn't want food or sleep for a bit. He just wants attention! He is still napping a lot during the day which is great.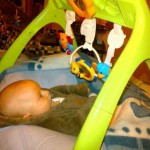 – I've started doing some stimulation stuff, even though I'm not sure if he's that interested. I tried the play gym which if he touched it at all, it wasn't intentional.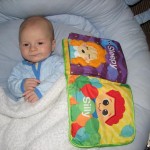 I've also tried some reading. He likes it when I make the sounds for the transport book.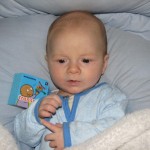 My DH had fun with the feelings book since it is made of material and different textures and proved a good distraction while I was out.
In other news:
Please check out Mo from Mommy Odyssey and company doing their thing on Podcast at Bitter Infertiles. I always enjoy listening to bloggers.
I'm so happy that Giuliana had her baby!
Related Posts via Categories
Comments
comments