I have been observing Nicky and noticing that he has a better sense of direction.
He is getting better directing his scooter around, moving it around until it is aligned along the path he wants to travel.
He has finally figured out the walker! Previously he would only push himself backwards. Now he is moving himself all over the house and even outside. He is literally walking, with some support.
His favourite thing to do is "walk" from room to room holding onto me. He is getting good at standing when I hold out my hands to do this.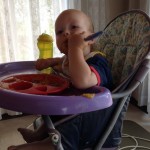 Another consequence of this increased ability to "steer", is being able to feed himself. Yes, a lot of the food is landing everywhere, but some is definitely going in. He really prefers to feed himself, even though it is a big mess.
We took our first swim of the season. We finally have a pool fence. Nicky did not like the water at all. He preferred to play with his yellow dog toy on the sidelines while we cooled down.
Oh, and he has taken his first independent step!! Nothing after that, but I'll keep you posted.
Related Posts via Categories
Comments
comments