As I mentioned before, Nicky has a default position of pushing some object along. It can be anything. He particularly likes things with wheels.
I thought I'd write an update on this because I've noticed two additional movements with regard to pushing objects around.
1) He likes to put things in the objects and push them around. They can be the most unusual treasures e.g. a plaster, a ball, a piece of paper. Rubbish is wonder in his eyes. He gets most distressed if any of them fall out so I will normally supply some sort of container to keep them all in, particularly the balls which don't stay stable for long. Here in the picture you can see he even has a mini shampoo sample. He loves bottles and will spend time taking a cream in and out of a box for ages.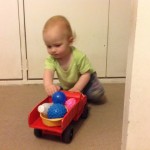 2) Not only does he crawl and push, he also likes to stand and push, in preparation for walking.
He likes to do this particularly with his scooter because he has mastered steering it around. The only problem is getting it over the step in and out of the kitchen. I am sure to hear a moan and as long as I help him get it over, he is happy again.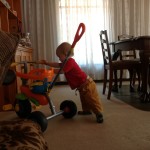 Another interesting thing he likes to push is our wire basket. This was initially full of potatoes, onions and plastic bags but it was rather too heavy and he kept pushing the whole thing over. I dismantled it and was about to chuck the whole thing out but he was most distressed and cried his heart out that it was all in pieces and he couldn't push it. Of course he wants this normal object and not the two walking toys we purchased.
So I put the whole thing together again, securing it with string to make it extra strong. I put the dustpan at the bottom, which he loves to play with. Joy was once again restored.
Right now Nicky is sleeping after having a very hectic night. I think he is teething again. I am exhausted! But I still love him so much.
Related Posts via Categories
Comments
comments