Hello bleeps! How are you doing? I still have half a face! But I must say the nesting instinct is definitely kicking in as B and I sorted out the nursery yesterday, packing everything in order and feeling a lot more sorted.
I had a fantastic baby shower on Friday at work. The whole school made a celebration out of it. Our school is relatively small (about a hundred kids) but everyone was invited.
They made a huge effort to decorate and hung blue clothes on a washline which was quite cute.
One of the parents made a huge ?nappy cake? which was really quite spectacular. And SO useful and practical. (B had fun separating all the sizes afterwards into different Glad bags).
They put me on a special bench and then ran some games for the kids. They had two guessing measurement games ? guess how many jelly tots in the baby bottle and guess how big the circumference of my tummy was. Then the last game was drawing the baby on a piece of paper on your head. They had prizes for the winners too.
Then they gave cupcakes and juice to the kids. I only actually opened the pressies from my class, the rest I took home to open. But I was totally spoiled! It was so good to see the kids again. I could see some of them staring at my face and trying to figure it all out, but in the end I kind of left it. To some of the kids in my class I said ? ?I know my face looks funny, but it will get better.? I explained to the few parents that were there so that they knew. Actually I am coming to terms with this, and know it may last longer than I bargained for, but having been through this shower in front of all these people now, I guess it doesn't really matter. Baby is not going to notice and he is the one that counts!
I also popped in on the teacher taking over my class while I am away and she seems to have things under control. I showed her some stuff for my special needs learners but otherwise, she is just going to have to figure it all out. That is the thing about letting go.
It was also good to see the teachers and my boss again and just spend time with them again. But I think I miss the kids most of all.
I also went to the Assembly afterwards and they had four girls say some nice stuff about me. Really, I will treasure those moments.
Anyway, I am sure you are dying to see the pictures of the presents. I am now so fully stocked in some cases I have doubles of things!
Clothes and fluffy toys: Arranged in piles of newborn, 0-3, 3-6 months. There were a few older items too. It was B's idea to put the bear in the baby grow!
2. Shoes, socks and beanies
Socks, shoes and beanies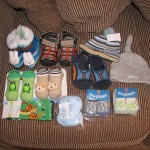 3. Blankets. See I now have 3 pillows! And two cuddle wraps! The Snoopy blanket is so cute and he actually has a baby grow to go with it too. From Woolworths.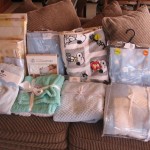 Blankets
4. Nappies and wipes. These will last a while.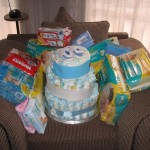 Nappies and wipes
5. Big items. See I have two pouches. But I think I could use the Chicco for when he is older. The staff gave me the baby monitor. The swimming teacher gave me the bath dam and bath toys.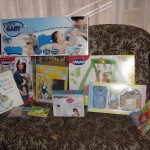 6. Eating time! He literally has 14 bibs now! And one set has the days of the week on it. I love the spill resistant bowl.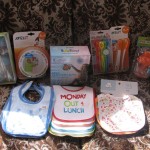 Eating time
7. Bath and toiletries. Wow – I got spoilt here. I even had some nice gifts for myself. I am glad about the Bio-oil as I am running low and I will need it for my C-section scar.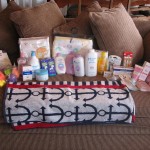 Toiletries
Well folks, I'm not sure if you will be hearing much from me, since things are set for Wednesday and I am not sure if I will get to blogging all about it until I come home. I might do a short one from my blackberry, but it won't go through on the email so you'll have to check back in.
Wish me luck!!
Related Posts via Categories
Comments
comments