Two years ago our family visited the Mama Magic Baby Expo when Nicky was two years old. I was interested to see if an almost four year old would still enjoy the expo and if I would still find it helpful. Yes, most of the stuff is geared to babies, but we did find a few worthwhile exhibits and activities where he could still have fun.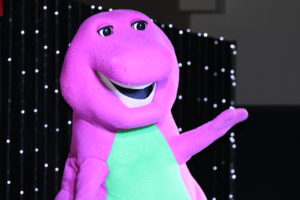 Our first stop was the Barney show. There was an introductory song and dance by "Beautiful people" who sang about various animals. I taped a few on my phone as tips to keep my two year old class occupied! Plus I have a jungle theme week coming up!
Barney himself is really cool and the kids enjoyed him. I found Nicky less responsive than previously but he did enjoy the dinosaur when he first came out. I took a video of the "I love you" song again so as to compare it to last time. You can see Nicky is not as enthusiastic until the end.
Next we wondered around and I found a really cool toy and book shop from a lady from Durban. She had the plastic joining toys that we found in the charity shop so we got some of them, plus some plastic animals. Nicky is very happy when he is building things.
We had already gone past the ball pit run by Dettol. I had asked Nicky if he wanted to jump in and he said no. But now he was going "Balls! Balls! Balls!" so hubby went back with him while I took the chance to walk around.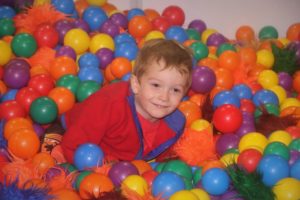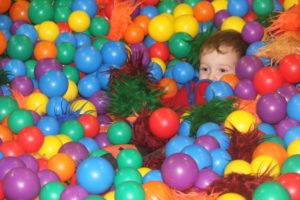 Nicky absolutely loved those balls. He was practically swimming in them. He jumped in. He lay back in them and buried himself in them. He was there for quite a while until I persuaded him to try some lego on the other side.
The lego was actually Duplo. For the uninformed this is the bigger version. Obviously the show is aimed at younger kids but Nicky still enjoyed playing with it and I saw quite a few older kids there too.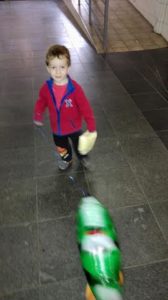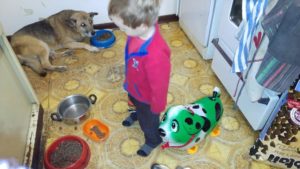 Definitely another highlight of the show was the blow up dog from the SPCA stall. Nicky really loved to tie this balloon dog to his wrist and "walk" it around. This continued when we got home. He insisted that "Puppy" must have his own bowl and dog blocks and proceeded to "feed" him. We then took "Puppy" on walks throughout the house. The "dog" even needed to poop at one stage.
What's nice about this toy is that it doesn't bash him or try and eat his food like the real dogs do.
My heart just melted when he said this dog was his "sister Puppy" who would follow him around the house (neatly attached to his wrist).
Ah Nicky I'm sorry I can't give you a sister.
But I can enjoy you playing with a plastic dog.
(I did receive tickets for the show.)
Related Posts via Categories
Comments
comments