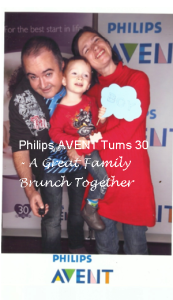 Our little family was fortunate enough to be invited to the Philips AVENT 30th birthday celebrations. We had a great time and enjoyed ourselves at this event. Hubby took some great pictures for me and Nicky had fun with a balloon animal and hand printing. It was a lovely morning out.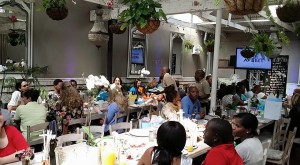 The event was held at the Il Giardino Restaurant. We enjoyed muffins, cheese platters and some cooked food too. We had juice and cappuccinos. There was also champagne and DH enjoyed that. There were a lot of bloggers there and it was nice meeting up with Laura, MeeA, Melanie, Tanya, Cassie, Karen, Lebogang and Portia. I was also glad to see Esda who was a winner of a Milton soother a while back, heavily pregnant and ready to have that babe!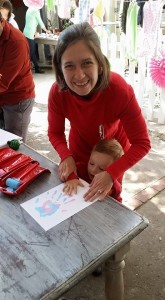 For the kids they had colouring activities, face painting and balloon making. They also had a neat craft where each family member made a hand print on the same page, as well as a frame that you could display it with. What a beautiful keepsafe.
When we got there Nicky did not want to go to the toilet but after he downed a glass of juice I just had to take him. I was so glad that I bought that potty and he made a pee! Yay! Later on he told me "Pee!" and we went and he did another pee. After that he was very happy to play with his "bunny" balloon and all the confetti on the table.
Gerry (Rantseli) Elsdon was the MC for the event and she introduced Marc Duthoit who told us more about the history of Avent and how they wanted to make better bottles with better teats all those years ago. The new brand ambassador, Katlego Danke, spoke as well how she used to be the baby shower queen and how people always seemed to want Avent products given to them.  She is also involved in charity.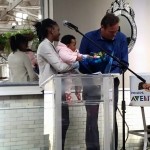 The baby of the year was announced: Bokamosa Moloi. This babe was whimpering quite a bit during the speeches and when she came up was very interested in the flowers. After that she needed a nap!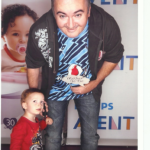 There was also a photo booth there and we had fun clowning around for the camera. Hubby thought it would be hilarious to put a "Mother to be" bubble on his love handles. As you can see Nicky just rolled his eyes at this idea.
So, thank you Philips AVENT!
Related Posts via Categories
Comments
comments