Nicky in his Agnes Box Chair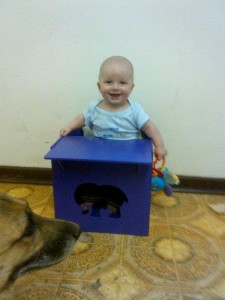 I know I've been a bad blogger lately. Posts have been few and far between. It is a combination of being busy with my new phoning job (although I'm not getting a heck of a lot done, just when he naps) and not having much new to say.
Nicky and I have been going to Daryl's class every Tuesday, and she is a follower of Agnes Wenham. So it is all about posture and exercises to help babies get on their way. This chair is Agnes's box chair, or a alteration of the "front support kneeler" .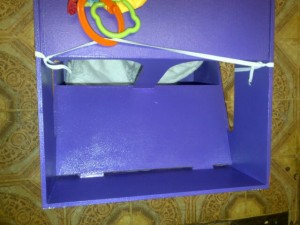 As you can see from the other picture, the body is slanted forward,  which strengthens his back, or as Daryl would say, makes him work! You can also see I put a bit of elastic on to attach his toy, as he needs something to play with. I am also giving him carrots and cucumbers to suck on as we will be starting solids this month. And he is teething! We now have two bottom teeth!
Nicky is now 7.35 kg (without clothes, so he could be a bit more). He will be six months on exactly on Thursday.
I am a firm believer that babies develop at their own rate, but after Daryl's assessment, we have to work on some stuff.  Although his head lag is good when pulled to sit, he is not yet sitting alone, supporting himself, and also not on straight extended arms when on his tummy. However I have to say I see the gradual development of these abilities. He can sit by himself for a few seconds, and I know he will get there. I've also started to see him straightening his arms this past weekend. So I know he is on his way.
To work on these gross motor activities we will be practicing rolling in a blanket. We will also do "wheelbarrows" holding his legs as he balances on his arms to strengthen his arms. DH was also with me and we practiced holding him at thigh level and passing him to each other.
For fine motor, and to get that little thumb out, we have been practicing with a 3cm cube. He likes it. We also have to expose him to different textures and make a "feelly chain" of different things for him to touch.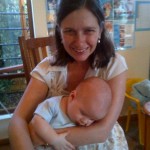 Nicky was very tired after today's activities and the assessment. So tired he feel asleep on my lap at Daryl's! Poor little dude is only six months and already getting report cards. Ag sies. I just want to enjoy him, not put any pressure.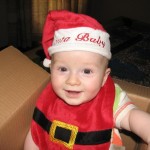 Santa Baby
Well, we are off next week for a three week holiday in the Eastern Cape. It will be so good to spend time with family. My sister is coming out from the USA (Seattle) and we will be doing the tourist thing with them as well. Very excited about that as I haven't seen her in ages.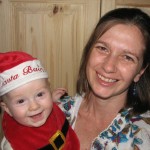 Merry Christmas, from Heather and Nicky!
So for now, it's goodbye from Heather and Nicky. Happy Christmas!
Related Posts via Categories
Comments
comments