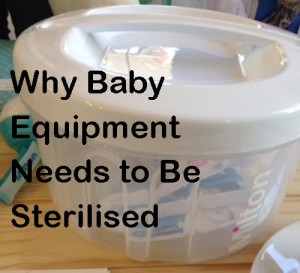 I went to the launch of Milton SA's latest products with a certain amount of trepidation. I wasn't quite sure if this event was a good fit for me. I  never really used Milton. I sterilised Nicky's bottle and pumping equipment when he was little in the microwave and I have been breastfeeding ever since, so I felt like it wasn't really for me. However, I decided to put my reservations aside and find out more. Also, my own bottles had been sterilised by Milton as a child. So, it is a part of my history after all.
Well, it turned out to be very interesting.
The speaker was Milton's Global Technical Director and clinical biochemist, Steve Riley. He has worked in disinfection and sterilisation for thirty years.
I found out the following about why we need to be taking extra care in sterilising our baby bottles and pump equipment.
1) Babies don't have much of an immune system in the first year. I knew this, that's why we were washing and microwaving all the bottles etc.  But I found out some interesting stuff. During pregnancy the mom protects the baby. Once born, there is a substance called sIgA (secretory immunoglobulin A) from the breastmilk that continues to protect the baby's immunity. It is an anti-infective agent that coats the intestines to protect against germs. In colostrum and that first week it offers concentrated protection, but in the second week, drops 65%. Between 5-6 months, the immunity is at its lowest. (Bottle fed babies don't have any protection of this kind at all). By six months babies start producing their own IGA and by one they have 17% of what an adult has. I knew that breastmilk helped keep a baby well, but it really was affirming for me to hear all these statistics when breastfeeding hasn't been the easiest path to follow, and it did offer some encouragement to me.
But whether you bottle or breastfeed, if you are using bottles at all, you need to keep them sterile to protect that fledgling immune system.
2) Prevent gastroenteritis. Steve says the goals to increase breastfeeding and decrease gastro in babies have not been fully met. He says breastfeeding has increased (well, I think the jury is still out on that one…) but not gastro. Did you know that in 1940 there was a gastro outbreak that killed 4500 babies in the UK? The ministry of health asked Milton (which had been around since 1916) to help. And  yes, they did name the company after the poet.
3) Kill nasty bugs. Apparently, with Milton, the worst are killed off in one minute (e.g. bacteria, fungus) and the real nasties within 15 minutes (e.g. rotavirus, norwalk virus, polio, influenza). Um, those sound like some of the things Nicky was immunised against in vaccinations. Double protection, then?
So, practically, how can we bring the effectiveness of hospital sterilisation to our homes?
Milton has three new products which you might want to take a look at.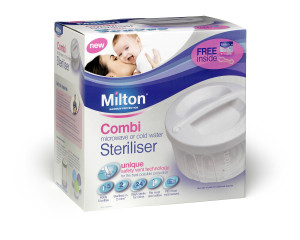 1) Combi Steriliser (using at home)
You can use this hot (in the microwave) or cold (with the Milton tablets or fluid). Steve told us something pretty interesting. He said they tested other makes and none of the others really went to the temperatures theirs did. The others could only do 90 degrees whereas Milton's one could do up to 120 degrees. This is because it isn't your regular "put two pieces of plastic together and have air vents". (Before you panic about whether your plastic will melt, Medela and most bottles today can go up to 140 degrees). They have a special pop up vent technology where the valve will pop up in the microwave and release the steam pressure. They also have silicone seals. So all  you would do is pop 60ml water in and microwave on high for two minutes and bob's your uncle. Sterile for 24 hours.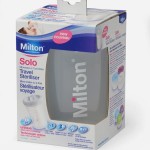 2) Milton Solo (out of the home)
Similarly, you can use this hot or cold for a single bottle and it will be sterile for 24 hours. It also has the pop up vent.
3) Milton Soother Steriliser (for dummies)
Steve told us that the foam used in this steriliser took them about a year to source and that it is medical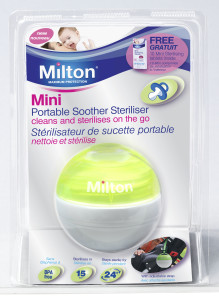 grade PVA from Belgium.  He also said they tried it at first with one foam and then found it to be better with two. The sponges absorb the water and are pretty special because they can also be used inside the human body.
Again, pop water and the Milton tablet in this container, and within fifteen minutes you have a sterilised dummy that will last for 24 hours.
You can win one of these from me! See the end of this post.
I just want to mention two other things about this event.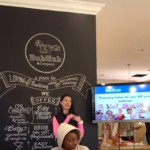 It was held at the lovely Bub Hub at the Broadacres shopping centre. Apart from the shop there are a lot of interesting classes (like parenting, antenatal, pilates, hypno birthing, baby massage). They are the only place in Joburg to do baby reflexology. The toddler yoga looks interesting to me!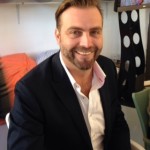 The other speaker was Richard Hardiman who runs Dudes to Dads, workshops preparing fathers for parenthood. A blog worth checking out, especially if you are about to become a dad.
Now, on to the giveaway! Click on the various categories to increase your chances of winning. If you know anyone that would like this, please spread the word. Sorry, this giveaway is open to South African residents only. Winners will be announced next Sat the 19th on Facebook and then emailed.
Related Posts via Categories
Comments
comments