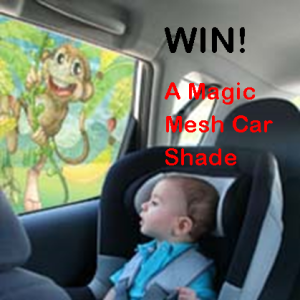 Summer is an awesome season for having fun in the sun. Unfortunately it can also be a very hot experience for little ones in the car. We already know that the heat is magnified in a closed vehicle. Driving around in the warmer months can become uncomfortable for children. This is why you need some kind of shade from the sun in your car.
My current shade solution is a little roll up thing that sticks on with suckers. The bottom part is forever coming off and Nicky loves to play with it. It doesn't offer much protection.
The other option I've heard of is called "Window Sox" which is a total blackout. There aren't any pictures on it and I don't think the driver can see out of it either. I also know a friend whose kid actually got a bit carsick with those shades because of not being able to see the road.
Magic Mesh is a little bit different to the above options.
1) You can still see out of the window.
2) There are a lot of gorgeous designs to choose from – animal, underwater, boy and girl themed.
3) UV protection
4) You can't see the picture from outside the car.
5) It fits your window and won't affect the window operation.
You can win a magic mesh car shade in the design of your choice by entering below:
(This competition is only open to residents of South Africa).
Related Posts via Categories
Comments
comments