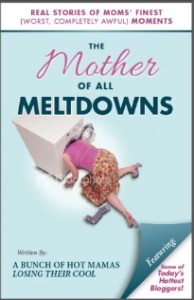 I have been giggling like a teenager as I read this book on my IPad and follow Nicholas around the house. It is like a much needed release.
I am sure I have had a few meltdowns in my time. The one in recent recollection is what I mentioned in the previous post. Due to Nicky not going to sleep after three attempts although I could see he really was tired (and I was too). I completely lost in while giving the dogs their dinner. I was actually throwing tin can openers on the floor while Nicky cried and kicked his legs. Not my proudest moment. I guess it is besides the point that the can openers did not work and I should have been a better mother, responding to his needs immediately, but it had been a long day.
That's what I liked so much about this book. You get the build up. Each story, and there are 30, all written by bloggers,  paints the picture as to why the mom completely lost it. And that is what makes them so human.
The first story I totally identified with was written by Jen Kehl of My Skewed View. This mother had a few precious minutes to herself because she'd given her deconstructionist son an old appliance to take apart outside. While she enjoyed getting all those things done inside, he had gone mad with a hammer leaving shattered glass all over the lawn. She not only completely lost it, she got into her car and left her hubby to deal with it! Lol! The part that spoke to me though, was that he had at one point locked her outside of the house and that is what got to her most of all. She explained this to him afterwards and re-established their connection. So I like this story because of the value it placed on relationships.
In a similar vein writes Kristi Rieger Campbell of Finding Ninee about Soccer Tots and how she realised losing it with her son over this occupation just wasn't worth the activity.
Another one I liked was for those totally sick of unsolicited advice. It comes from Debra Cole of Urban Moo Cow (so called because her hubby saw her nursing once and called her a very good Moo Cow). After having her fill of people telling her what she should and shouldn't be doing with her baby, the straw that broke the camel's back was a man telling her it was cold out and he should be wearing a hat. She had a good time yelling at him.
Which reminds me, for all the breastfeeders, and particularly those working and pumping, you will identify with Natalie Goodman of Work in Sweats Mama. Kudus to her for travelling and pumping so much in all kinds of places, including airplane toilets. Well, what would you do if your "liquid gold" went missing at a hotel? And you had to contend with a load of ignorant airport personnel?
For formula feeders you will appreciate the story of Melissa Swedoski of Home on Deranged trying to open some uncooperative bottles in a desperate situation with a hungry baby.
There are a few stories written by bloggers who have dealt with infertility or loss. One is Anne Marie Gubenko from Tidbits from the Queen of Chaos who lost her son. She wrote about her daughter cutting her hair right before photo day. Alexa B. of No Holding Back wrote the heart breaking story of losing one of her twins to Twin to Twin Transfusion Syndrome.
This book was put together by Crystal Ponti of MommiFried. She wrote about how her boys ran riot on a roof and redecorated  her newly carpeted and painted kitchen and living room with mustard and tomato sauce. I'm sure she can laugh about it now but it sure must have been awful at the time!
What I also like about this book is finding some new interesting blogs. You can see more of the contributors here.
You'll have to read more of the stories yourself.
In fact I have a prescription for all you weary moms out there.
1) Make yourself a nice cup of tea (or wine, or whatever your fave beverage is)
2) Read this book and have a good laugh.
Related Posts via Categories
Comments
comments