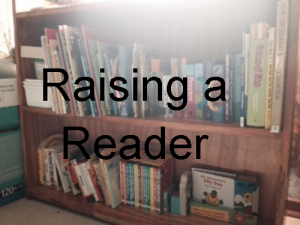 Now that Nicky's little bed has been put away and he is consistently using his big bed, a new space has been created in his room. All the books next to his bed were in disarray and falling over so I moved a bookshelf from another room in the house to take up pride of place next to the window. Creating a bookshelf is one of the methods I am using to raise my little reader.
I thought this would be a great opportunity for him to choose his own books, now that he could reach them, but he is still grabbing any old book. Although he really likes the book on trucks that he can open and shut. We also have a few faves I know he likes that I save for last (we read 3 books each night) like Dinosaur Versus Bedtime, Good Night Little Bear, Molly and the Night Monster, Seymour and Henry (about two ducks).
This week we finally did something I have been wanting to do for ages: we went to the library.  I recently read this post on A Fine Parent about how if you want your kid to read, you had better start reading yourself. (The article was about being a lazy parent and they made the point that if you sit and read for 15-30 mins per day they will get the hint that reading is important). The challenge I'm finding with library books and following your toddler around is that you have to really be careful. Our trampoline collects water in pockets and I just put the book down to jump with my son for a bit and next thing I know the book is starting to get wet.
It was a mad dash inside for me and a few minutes of frantic work with a hair dryer. I managed to restore it to its former glory.
Then we have the sand throwing and diving.
However I have managed to find a few nice spots to sit in while he plays. Let's hope I manage to finish this Susan Howatch trilogy in three weeks! And that the book remains in one piece…
Book lovers will also be interested in this bit of info that popped into my inbox: that there is a Book Fair happening in Johannesburg at the historic Turbine Hall in Newtown (managed by The Forum Company) from 31 July to 2 August. The three day Fair is a veritable playground for lovers of reading. Promising to bring the focus back to books and their authors, this year's Fair has planned an exciting literary programme that will feature book launches and signings, author interviews and discussions, poetry readings, literary workshops and forums, exhibitions and displays, and an exciting children's zone. Friday is a dedicated schools and library day, with a carefully crafted literary programme for learners and educators.
Another thing I've been working on with Nicky is assembling an alphabet. I've printed out letters and collected plastic animals for each. I've done one three period lesson teaching o, a and d. He managed to get as far as the second period matching the octopus, anteater and dolphin. It was a bit haphazard and I think we're going to need a lot more practice. But ever since I was a teacher it has been a dream of mine to teach my own kid the alphabet, so I know it will come.
If you're wondering about how I'm doing this, I've created a new freebie on the menu bar and also at this link.
I've always enjoyed reading in the past, but lately it seems to have fallen by the wayside. I'm hoping to get back into it so that I can inspire another generation to be a book lover.
Related Posts via Categories
Comments
comments