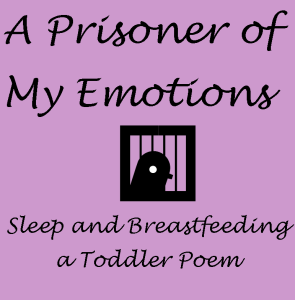 In the early hours of the morning
When my entire body is craving sleep
Anger festers inside me like a boiling cauldron.
There is no winning here for me
Only a tired mother's act of love
The only way for him to sleep is boob
And that means I cannot sleep
I am numb
With every suck I feel my fertility shrinking
My second child fading away from me
The anger seeps though my body
So that my precious child feels it
And he cannot sleep either.
I waited for you so long
I treasure you so much
But sometimes I feel like a prisoner of breastfeeding.
Sometimes I wish
That I had used
A Dummy
A Taglet
A Bottle
Anything actually
Besides the boob that keeps me awake
I know he's getting the warmth,
The nutrition
The comfort that he needs
But I am not.
In those early hours I see my options
1) Stop breastfeeding and use substitutes (which hasn't worked)
2) Acceptance
And I already know my path.
But acceptance is hard.
For now, it is only distraction that is working for me
I think of blog posts
I think of our summer holiday ahead
I distract myself from myself
And finally I feel my breathing ease
The weight lift
And sleep comes to my babe.
It scares me how he reads me
In the daylight naptime
And when I put him to bed
I'm pretty good at acceptance.
But in those deep dark hours of the night
Where fears and anger live
I do cry a little
I love my child more than anything
But breastfeeding a two year old in the middle of the night
It
Is
Just
Hard.
Related Posts via Categories
Comments
comments