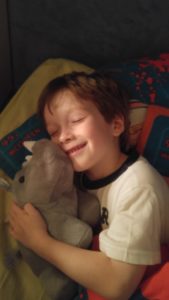 Nicky was very curious about this grey rhino which arrived from Prima Toys. He liked the idea of having a money box but he also wanted to know why it was a rhino.
These cute rhino toys are all over the place at the moment. I've seen them at Pick n Pay and at Toy Kingdom. They do just look like grey soft toys but they also have a slot for money and a plug at the bottom (to get the money out). I've given Nicky some coins to start off his collection.
Prima has released 20 000 of these toys into various stores and for every purchase of a rhino, R10 goes to Wildlife ACT which facilitates the funding of organisations that care and feed baby orphaned rhinos until they are old enough to be released into the wild.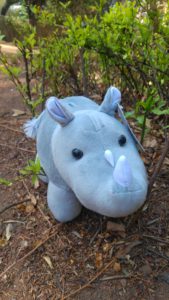 You can also donate money saved in the rhino bank can be donated to Wildlife ACT through their donations portal. 
So what is the money used for the baby rhinos?
for teams to find and rescue the rhinos
for formula for the baby rhinos
security upgrades to the bomas to make sure the orphaned rhinos are safe
Nicky is quite certain that he wants to do his show and tell about the rhino. In his class at school they also sing this really cute song about the rhino. You can see him singing it below and telling us a bit about the rhinos too.
For more info go to Prima's site here. 
Here's Nicky's song (as taught by his teacher)
The animals of Africa are calling one by one
For the hunters and the poachers to put away their guns
We don't need their ivory, we don't need their horns
All we need is for them to be safe where they belong. 
Related Posts via Categories
Comments
comments