Nicky loves to create things. He spends a lot of time building lego. But when there is a new box around in the house he just loves to play and build with it, or turn it into something. So lately we have had a few boxes around so I thought I'd do a roundup post of all the fun he's been having with cardboard.
1.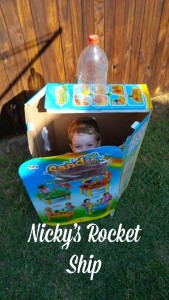 Remember that time Nicky built a rocket ship? He loved blasting off into space in this one.
2. We had a new water table at the school and the kids just loved the box it came in. Yes, I have no idea why they dived into it this way but there were plenty of smiles involved when they peeked out.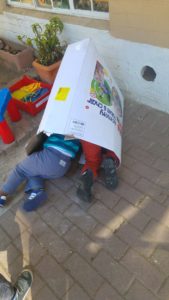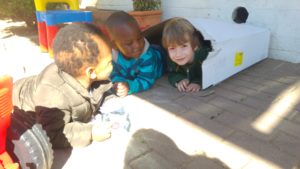 3.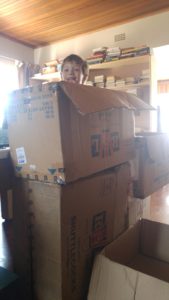 A whole load of boxes came into the house for the #JoziMeetup, and that's basically what we have been playing with a lot ever since. There were seven big boxes from Oh So Heavenly "Mom and Cherub" Farm Fresh baby range. The first thing Nicky did was to build a house with boxes on top of each other. He made a bit of a nest for himself at the top. He always sees me reading a magazine so he had something similar (about Cars 3) which he stuck in his box to "read".
He then spent a lot of time and effort with "supports" of other boxes keeping up this delicate arrangement.
4.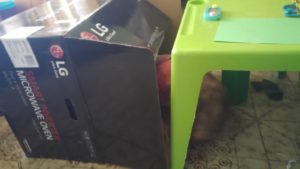 When the LG NeoChef Smart Inverter Microwave arrived he liked climbing into that one as well.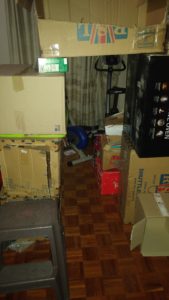 5. He had a special bridge for his bike to go under for a while made out of boxes. The house was incorporated into this with a step ladder to get into the door (which opens and closes by means of string).
6.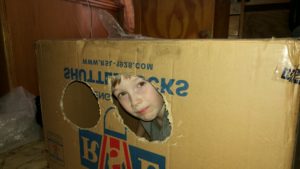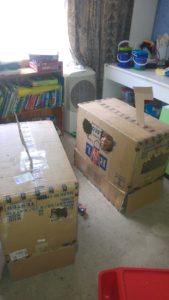 Last week he wanted to build a submarine. Who knows why. But he loved this so much. He had a little torch inside and had fun. He even ate his supper through a window. When he had a friend over to play we made a submarine for him as well. That was fun.
7.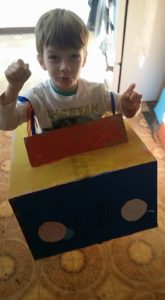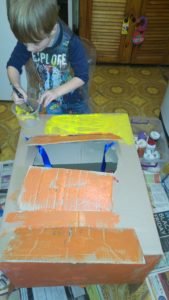 He then wanted to make a car on the weekend. But of course the car had to have an "aerofoil" on the back, windscreen on the front and another part in the middle. Not enough to walk about with this thing hanging from his shoulders, he then wanted to paint it. I insisted on doing this in the kitchen (after some bad experiences with acrylic paint not coming off). Then today he wanted to cut the edges off and surprise surprise he now wanted another car.
8. Car number 2 was a bit higher. He also decided it needed more buttons inside.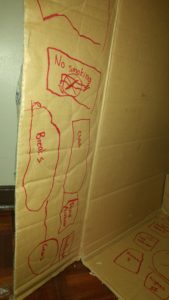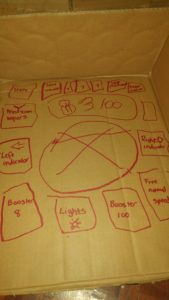 This was super cute. He had "Boost 8" (for not going so fast) and "Boost 100" for going super fast! We also drew some pedals and any other functions we could think of.
I'd love to hear from my readers: what creative thing has your kid done with boxes?
Related Posts via Categories
Comments
comments