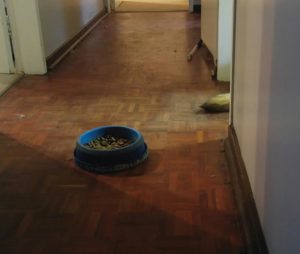 I was sitting with Nicky down the hallway and we were looking at the pictures of my Titanic book. I cast a glance down the passage and I saw Milo's tail sticking out, next to his food bowl.
You're going down, Milo, and I don't know how to tell you.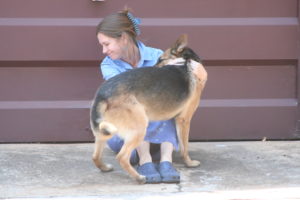 Milo was our first dog. He has actually been my first experience of having a dog. We chose him and he had to choose a partner (Coffee, who is still around) to live with. It was about eleven years ago that we found them at the SPCA, and today was the day I took him back.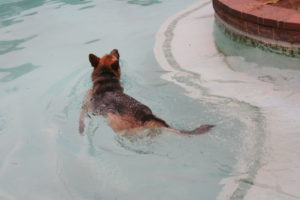 He loved water and swimming. He used to jump in that pool in the middle of winter. His thick German Shepherd coat was a challenge in the hot South African weather.
His favourite position has always been curled up somewhere near us, under the desk, on his dog bed, or in the kitchen watching me cook or do dishes. He also liked his kennel very much.
Recently Milo had been having problems with his back legs. He could still walk but he was slipping and sliding a lot to get to his food or outside.
We accepted this and it carried on for months. He was at the stage of reliving himself either in the lounge or on the driveway, he just could not make it to the grass.
This past week things came to a head when his front legs no longer really functioned. The only way I could get him to move was to kind of "prop" him up, lifting his hindquarters up. And he would stagger a few steps.
A direct consequence of this was that he could no longer adequately take care of his bodily funtions. So he started peeing and pooping from a sitting position. Not very nice for our home or for him getting wet. I would hear this pitiful whining/ squeaking sound to let me know that he'd wet himself, so that I could come and clean up and shift his position.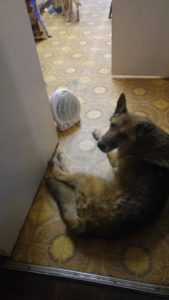 I bathed Coffee on Friday but in the end decided not to do the same for Milo. The last time I did it was so traumatic to get him in and out the bath, and that was when his front legs still worked. So instead this morning I put a heater next to his shivering wet body and he lay down in a more comfortable position.
Milo had a T-bone steak with DH for Sunday lunch. By that stage he was outside in the garage and he was watching our gardener at work. We let him back in a limited area (just the kitchen which was easier to clean up) for his last night of rest. We gave him cheese as a treat too. Dogs love cheese.
Last night DH was working late and he heard a sound coming from the kitchen. Somehow Milo had got his foot stuck in his food bowl and was dragging it around. The indignities of this situation are really sad.
When the time came to leave this morning he proved he still has a lot of fight in him. As I tried to lift him up he bit my hand. I think the frustration of not being able to move must have been getting to him, and being manhandled. (Not unlike what my dad experiences, but at least he is human and can talk.)
I managed somehow to get him in the car and we drove to the SPCA. The staff there were kind and considerate and we said our goodbyes. I had explained to Nicky that it was Milo's time to go to heaven because it was just more horrible for him to be alive at this point, old and not being able to move. Nicky seemed to accept it. (He has both positive and negative experiences of the dogs since they are always stealing his food if he doesn't put it high enough). Milo was good and did not bite anyone anymore. Perhaps he made some kind of peace with the situation, although how could he know what it was?
My heart breaks for this special dog. I have always felt that Milo was an old soul. Coffee is an enthusiastic dog who has massive love and will love you no matter what. But with Milo I felt that trust was earned. He was deeper.
He has been in our family for so long and he essentially was our first (fur) baby. Dogs are beings who can also make the journey of life that much easier with their presence. They are also comforting in a process such as infertility. They are your family.
Your bowl is still standing there, reminding me of the gaping hole you have left in our lives.
You will be missed, Milo.
Related Posts via Categories
Comments
comments