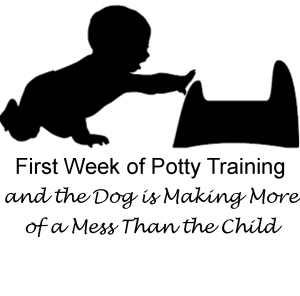 Potty training is a daunting task for any parent. In preparation for this week I bought two rolls of paper towels. Little did I know that I would be using them more for cleaning up the dog's messes than my own child. I guess we all have plans of how things should go, and life clearly has other surprises for us.
Up until now, potty training has been fairly casual. I've had the potty in the bathroom and we've been going before bath, before swimming, and mostly at the start of the day. The problem with gradual potty training is that it is way too gradual and way too casual. I think Nicky could tell I wasn't really committed to the process. We would try for a bit, he would pee or poop in his pants, and I would just put him back in nappies and give up.
This time I was serious. Daytime nappies had to go. But I needed some kind of plan. In preparation for this task I read a book: Oh Crap Potty Training. This was part of a bundle I picked up a while a go.
I'm glad I read this book because it really helped me obtain some knowledge about potty training.
There is an evolution happening in potty training and it goes like this: Clueless. I Peed. I'm Peeing. I need to Pee. So the key is to understand these stages and be patient and encouraging through each. Nicky is definitely aware that he has peed (afterwards) and some rare times even before. So I think we just need to work on building that awareness.
She says that the optimal time for potty training is between 20-30 months. Around 24 months is great because they are eager to please. Kids over 30 months are more skilled at manipulation.  Even now at 33 months I am experiencing a lot of this, I think he would be less likely to be saying "No!" to potty all the time if he was younger. However, there's not much I can do at this stage but forge ahead, apparently it gets even worse after 3. So it just has to be now.
Saying "push your pants" is better than "pull your pants down." Learning to push your pants down is part of potty training.
She says with night training do it 2-6 weeks after day training and not to wait longer than three months. Well, I'm hoping that will pan out, we'll see…
The other point that stood out for me is that kids can tell how serious you are about things and you have to be committed. Major fail in the past but now I'm working on it.
Day 1:
Easter Monday was a lovely sunny day. As per the book suggestion we went bottomless. We spent most of the day outside and he peed outside. We got him to pee in the potty a few times too. He pooped on the floor and I cleaned it up.
Day 2:
Tuesday was much colder. We put pants on and he had no accidents in the morning. We even went on a quick trip to Woolworths.  Nicky peed with Dad. (Dad was on holiday for a few days. Going to the toilet with Dad is much more exciting than with Mom). He had a great day and just before bathtime he peed in his pants. Aw. Good timing though.
Day 3:
In the morning we went for coffee at the mall. We were hypervigilent and took him to the toilet three times. Cresta has a fabulous family toilet with two toilets next to each other. One is small. There is even a small basin. This was perfect for us. He peed twice there.
When we got home we got a bit lazy so he wet his pants quite a few times. I think going to the toilet at the mall is also a lot more exciting than the one at home.
Nicky went to bed early since he did not have an afternoon nap. Since putting the dogs out to pee is part of our routine with Nicky, taking them out too early doesn't work.
In the early morning when I am helping Nicky I hear Milo the dog complaining but I ignore it.
Day 4:
Yes, we have dog mess all over the floor. Yuck. He even peed on the stroller. Eeu. I dissect the part that was peed on and clean up.
I did a load of laundry of all the clothes he had wet the previous day and the morning went really well. I was so happy when he actually said "Potty!" and we went to the potty and he peed there.
In the afternoon he messed his clothes again though.
I take Milo out twice, at the normal time and late at night.
Day 5:
I hear Milo squeaking in the early morning but I just don't make it in time. He has peed and pooped all over the floor. Out comes the cleaning stuff and Nicky is eager to help too. We talk about peeing in the right place and how it makes such a mess.
Today was my grocery shopping day. The first time he refused to pee. The second time I just put him on the potty and he peed. Success! We were off.
Nicky made it through the fruit and veg shop, Pick n Pay and Woolworths without peeing! This, even with drinking a drink at Pick n Pay. Yay! I took him to the loos at Pick n Pay but he proclaimed them "beeg!" and refused to use them. I guess I should have brought his potty.
We get home. He flatly refuses to use the potty then pees in his pants. Sigh.
In the afternoon we have people over and he does very well until he pees while using the trampoline. Oh well…
Day 6 (so far)
We went out this morning to a Philips Avent event and this time I took the potty. We went twice to the loo, the second time he said "Pee!" so I think we're making progress!
**
Honestly I don't know who is worse, my toddler or my dog. I seriously hate having that dog poop smell on my hands. Nicky's poop is okay if I've caught it early enough, I can chuck it straight in the toilet. So yes, I think dog poop and pee is worse. Let's just hope they both improve!
Related Posts via Categories
Comments
comments