All flat surfaces, clothing, furniture, and cars would be free of hair.
I wouldn't have dog slobber all over my face when they lick me..
I wouldn't have this friendly face poking through the bars when we have visitors
I wouldn't have a friend who likes party hats
I could sit on the couch and my bed the way I wanted,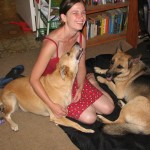 with out taking into consideration how much space
a fur body would need to get comfortable.
I wouldn't have a friend to wear a FIFA 2010 T-shirt too in support of Bafana Bafana!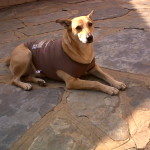 I wouldn't have a friend who eats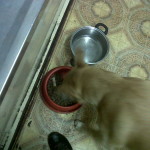 with me when I wash the dishes
I wouldn't have their contented sighs next to me while I am at the computer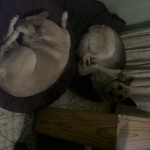 How EMPTY our lives would be!!!
To all animal lovers out there: watch this cute video about my friend Daniel Pettry's dogs:http://www.kickstarter.com/projects/DannyPettry/announcing-an-amazing-picture-book-that-teaches-ch
One day I'll write a book about Coffee and Milo too. Watch this space. 
Related Posts via Categories
Comments
comments