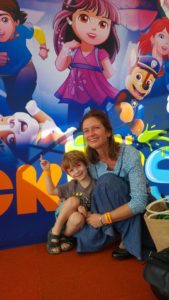 There was so much on the go at #NickFest 2017 that we were spoilt for choice on what to do. The place was filled with parents and kids, having a blast at the various activities. Nicky and I went along to enjoy the fun. We visited this event two years ago (see this post) so I knew it would keep Nicky very busy and entertained.
We started out at the entrance taking a picture against some character backgrounds. I attempted to use the NickFest "selfie stick" to take a picture – not very successfully! But in the end someone nearby helped us which was great.
We walked into the huge arena. There was a lot going on. I saw the "Showmax maze" but we actually did not have time to go there. We also did not manage to get to the slime pit – apparently it was sold out. I think this is one I would like to pre-book if I went again.
On the other side we found the Kinder Joy stand. Now Nicky is a huge fan of Kinder eggs and he often has fun opening them and enjoying the surprise toy and eating the chocolate. Here there was a game with discs and then another with balls – we got a Kinder Joy bottle as a prize. We also met the character "Kinderoo".
After grabbing a helium balloon and attaching it to Nicky's arm, the next priority was to get his face painted. He loves this, for some reason. The queue for this was very long but worth it. A lot of girls had lovely floral designs but Nicky had a Batman painted for a change instead of Spiderman as he normally does. While I was there I saw Sam Curley Young also queuing with her daughter Gemma, so it was nice to chat to someone I knew. (The place was so big I probably missed the other bloggers…)
After this we went to some moving cars, but they did not have the same appeal as two years ago.
We took a picture at one of the cardboard cutouts of Nicky's face in Sponge Bob which was also fun.
At this point we sat down and had a snack and watched Dora and her friends perform. They had a cute song about flying like a bird. There were various performers over the morning (Teenage Mutant Ninja Turtles and Paw Patrol were the other characters) and they also had some singers ("Let's take it back to the beach…") as well as crowd hyping presenters. In between each act there would be a celebrity slime  (where a celebrity is dunked in slime) and Sponge Bob would pop up to do the countdown.
Basically we only sat down for Dora because we were too busy investigating the other activities.
We went to see the "My little pony" stall and then went on to the Playdoh. Nicky had a lot of fun at the Playdoh activity centre. There was a fun tool for making spaghetti hair and also making ice cream come out in an ice cream truck which was quite cute.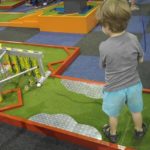 We then got in the queue for miniture golf and this was a good gross motor activity, and also good for aiming the ball. The only thing is that Nicky wasn't particularly good at leaving the ball where it was and liked to pick it up and put it in a better position. They did have some really cool miniture golf courses with houses, castles and hardware. Very creative.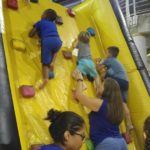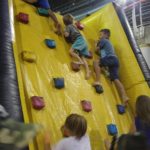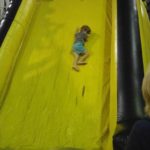 We then went to a climbing apparatus which I'd seen the previous time and wondered if Nicky would be able to manage. The reassuring thing is that the 55 child minders were really out in force throughout the arena and they had a few helping the little ones up and down which was helpful. I think they were students but they were very helpful. Nicky had fun climbing up and gingerly slid down too.
By this time our time was up, it was 11:45 and they were closing the area in the next fifteen minutes.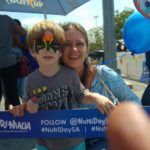 We went outside and discovered more things to do. I think when Nicky is older he could enjoy all the go carts and biking. But I saw a Nutriday stall and was a bit peckish so decided to go there. Entrance was a tweeted picture, so we did that to score some yoghurt and watch a show about the food groups and the healthiness of eating yoghurt. A fun active dance activity and Nicky got up and did his moves for that too.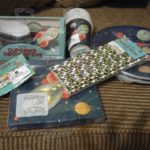 As part of the goody bag with the tickets for the show was a voucher for a party store at Northgate (The Party Spot), and since I am hardly ever in this area I decided to investigate. It was over on the other side near Dis Chem. Nicky was a bit tired and I had to push him around in a trolley at this point but I was determined to get this done. I found a few things for his space party which we are planning for June. (Not just the plates and cups but also cupcake holders, straws and confetti). They do have a huge variety of themes, as well as candles, sweets and flowers plus a blowing up of balloons service. I think this is a good place to go to if you have a party coming up.
Some things don't change even two years later and Nicky passed out on the way back after munching some chips!
Thank you so much, Total Exposure PR, we really enjoyed the morning!
Related Posts via Categories
Comments
comments