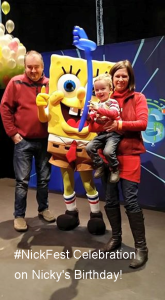 It's not every day your birthday falls on a fun event that contains your name. Lucky Nicky turned three on the same day that the Nickelodeon festival was going on (#NickFest). We had such a good time and the little tot passed out with exhaustion from all the fun afterwards!
We have decided to postpone Nicky's birthday party, not only because of #NickFest but because my mother-in-law had a hip operation. My in-laws always come up for his birthday and mom-in-law does lots of help with the baking, so we're going to leave the party until August. It's important to us to also have family at his party!
Nevertheless we got very excited for the #NickFest event. We prepared by watching lots of the characters we were about to see. We started with Sponge Bob. It turns out Nicky loves Sponge Bob Square Pants. I found some YouTube clips and he watched them on the IPad. He was very sad that he couldn't watch them in traffic (since the IPad is wireless but not 3G) so DH used up lots of his data so that Nicky could watch them on his phone.
By Friday I was shifting up gears to look for them on the Dstv Catchup schedule, so we not only watched Bob, but also the Teenage Mutant Ninja Turtles and Dora the Explorer. (Yes, we do watch kid's TV but it's normally the slow moving stuff suitable for his age group like the good night hour on CeeBeeBees (he loves Telly Tubbies) and Thomas the Tank Engine and Bob the Builder on Jim Jam).
On Saturday the 13th of June we were up very early. We had to get to the bus provided by the PR company at 7:30am. This was a bit of a challenge. But fortunately Nicky was in a sleepy, compliant mood while I put his clothes on and popped him on the potty rather than a tired-mad- kicking I-won't-put-my-clothes-on mood.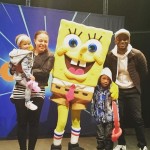 After a bit of getting lost we finally made it to the bus. I sat next to comedian David Kau and his family – they have some cute and friendly kids!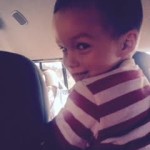 We had a fabulous time on that bus. Nicky had the best time because he was not strapped in. He took advantage of that freedom by moving around as much as possible, and standing up where he could see. They gave us a nice roll, chocolate muffin and yogi sip. Nicky had a little of everything and downed that whole yogi sip.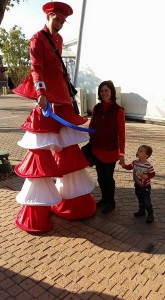 We arrived at the Silver Star Casino to see characters on stilts greeting us at the entrance. Once inside the casino there were more. They even made Nicky a balloon sword.
Inside we got to get our picture taken with Sponge Bob. This was certainly a highlight for us and very thrilling for Nicky.
The Nickelodeon layout was huge and entertaining. There was a lot going on. They had a variety of play sections for the different age groups. The pre-schooler one was where Nicky was happy to play in. They had a ball pit which he jumped into and he also had his face painted there as Spiderman.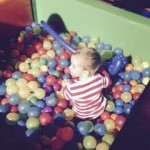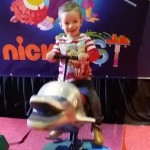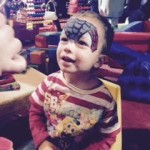 But by far for Nicky the main attraction was having a car to drive. There were numerous moving vehicles there such as cars, dolphins, tractors and seals. The best part was that you didn't have to keep shoving in (mom's limited) money. There was a button to keep pressing, and Nicky soon worked out where that was.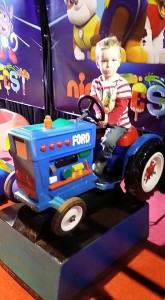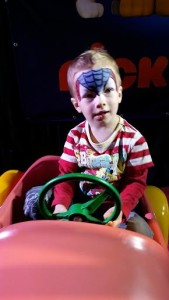 Nicky soon found his favourites  (a tractor and a pink car) and he enjoyed riding both of them. Throughout our time at the festival we kept going back to those cars. That was really what he enjoyed the most.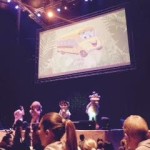 The show started and Nicky enjoyed the singers and dancers. He was happy when Dora came on and sang "Wheels on the Bus" as this is one of his favourite songs which we sing often.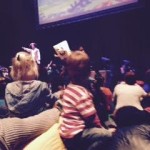 We also watched Sponge Bob perform and that was fun too. By this time Nicky was crawling all over one of the cushions in front of us.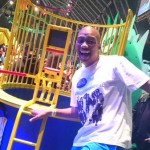 Various celebrities got slimed and we enjoyed watching our morning DJ "Whackhead" Simpson get dunked in the green stuff. Idols presenter Proverb said: "The slime just got Proverbed" There was an area where you could play in the slime.
There was also a lovely media/ VIP area above which had food to eat and a good vantage point to watch some of the acts.
All too soon it was time to get back on the bus. Once we were back in our own car Nicky went straight to sleep.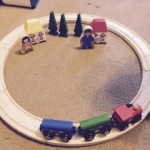 Once we were back at home, Nicky woke up and we could give him some birthday cake and play with his new presents, including a train set and other cars.
We got him this super quad bike which he really enjoyed.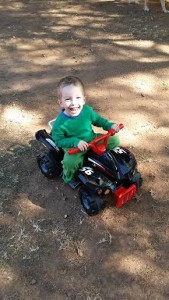 Thanks so much for the invitation, Capacity PR, we really enjoyed ourselves!
Related Posts via Categories
Comments
comments