I've been very busy this past week, even though we have been at home. I've been trying to catch up on a lot of stuff, some more successfully than others.
I've managed to catch up with my data capture job. I've done quite a bit of posting on SA Mom blogs and worked a bit on the #JoziMeetup.
I tried to sell some baby stuff but that didn't pan out. The baby second hand shop offered peanuts. Still available on Mom's List.
I tried to find a new recycling place but I failed. Cardboard boxes etc are accumulating. And since pickitup are on strike, the rubbish sits outside as well.
We did some fun stuff.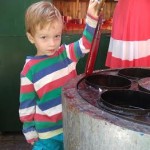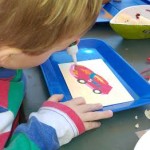 I have been meaning to do Adventure Clubs for ages and after two days at home being a bit bored we went out on Thursday to the Bryanston Organic Market and did candle making and sand art. I haven't been to this market before and it was nice to look around. I found that grass fed meat my dietician was going on about. (Nope. I didn't get it though…). Adventure Clubs has an app you can just check the whole time and see if you are interested in the activity.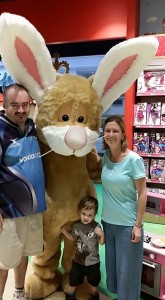 We went to Sandton City on Saturday to Hamley's and Nicky hopped like a bunny. He got a balloon and some more Easter eggs. (Oh my word. A lot of Easter eggs were consumed this weekend. We tried to spread them out over three days though.) He also met the Easter Bunny.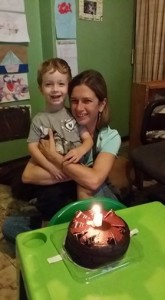 On Sunday it was my birthday and after going to church we went to the Spur that has a lovely playground so Nicky could go inside and outside. So nice to actually have a meal with my husband without having to spend all my time in the play area with Nicky. He moaned a bit in the beginning but I was firm. So he went and had a good time, jumping, sliding and whatever else there is to do at these places. We had some cake to celebrate too.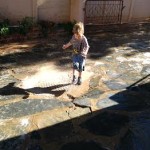 Nicky jumped in some puddles. He loves to do that.
I really enjoyed the time off. I feel like I had a good rest and have some good teaching ideas to come back with.
I hope everyone else had a super Easter! What did you do?
Related Posts via Categories
Comments
comments