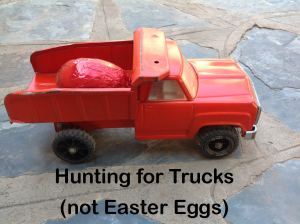 Happy Easter everyone! I hope you had a super weekend!
On Friday we did not do much (apart from shopping and laundry) as DH had to work.
On Saturday we went to the Rand Easter Show.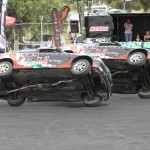 We first went to a motor display where the cars did drifting and even went on their sides! Nicky stood on the seat next to me and clapped with everyone else. He likes cars. DH stood at the top and took videos and pictures.
We then went to an army display. There were a lot of vehicles there and things to look at. There were also helicopters and jets above us.  DH is enthusiastic about the army as his father runs a military museum after spending 50 years in service and DH has a collection of army books.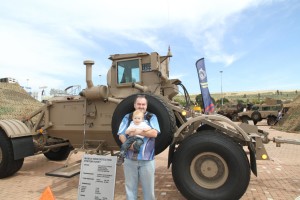 Here is a picture of DH and Nicky in front of a demining vehicle (DH has a friend who trains people for the UN on how to remove landmines by hand so was interested in this vehicle that was used by South Africa at some stage).
We then took a picture of Nicky and myself in front of a helicopter.  DH was also amazed to see the Rooivalk attack helicopter as only a few have ever been developed according him.  There were too many people looking at the Rooivalk so we did not take a photo up close.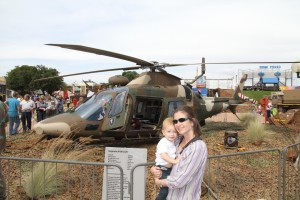 I was a bit on edge during this trip knowing Nicky's nap time was drawing near and that there was no ways we would get back in time.
I had brought Nicky's stroller and was hoping that he would fall asleep in there, as he had when he was a baby. However, this was not to be. He was too interested in everything that was going on.
He ate some of his pouch and drank some water. He even went into the nappy bag himself to get a biscuit (we keep left over ones from Wimpy in there). He did that twice! (He likes biscuits).
We went to a children's centre where they were doing gymnastics but of course he was too little for that. However I did manage to grab a balloon which he was very thrilled about.
Around twelve o'clock as I was at a booth ordering some lunch Nicky started crying. DH was rocking him back and forth in the stroller but it did not help, so I cancelled the order and we decided to head home.
Just as we were exiting the premises we saw a toy car shop and of course had to stop and look. Nicky now has two more little cars to enjoy! (I was going to take a picture but I can't find them. Anywhere!)
He fell asleep, of course, on the way back.
The car and truck situation, by the way, is getting a little out of control in our house. I decided to get a big container for the big vehicles and an ice-cream container for the little ones.
The favourite red truck has been missing for two weeks  and some of the little cars have gone missing too. So on Easter Sunday (after a nice big breakfast) we launched a massive Hunt for Missing Truck and Cars. We moved beds, couches and chairs. We discovered a lot of balls. But no cars or trucks. Eventually DH found it in a bush in the front garden. It is amazing where Nicky takes his truck to.
In the excitement of finding the truck, DH cleaning it off, and the inevitable need for sleep little Nicky had a good cry before wafting off to dream land.
After a good nap he could sample what we were all enjoying: his first Easter Egg.
On a more serious note, Easter is a time to reflect on new beginnings and rebirth.
I came across this brilliant post "My God, my God, why have you abandoned me?" (http://catherinegacad.com/2014/04/17/god-god-abandoned/) where Catherine Gacad recounts her experience with miscarriage and how it made her lose, and regain her faith. 
It reminded me how hard it has been before, to believe in that new life when dealing with the disappointment of infertility.
Three years ago I would never have believed that I would have a little boy munching Easter Eggs at Easter, or that we would be searching for his trucks. He truly is my little miracle.
Be encouraged, if you are still on a rocky road, that the true meaning of Jesus' blood is mercy for those who have not yet realised that miracles can come about and that God really is within you.
You just have to believe. And trust the process.
Happy Easter!
Now I have to go through the dustbin and find those trucks.
Related Posts via Categories
Comments
comments