My mother warned me, all those years ago, that getting married would involve quite a lot of cleaning up and looking after the man involved in a multitude of ways. I've always been aware of Brett's health issues and the way he likes to have me fetching and carrying for him. But in the past week he has taken this to a whole new level. He now has nurses trotting after him at the touch of a button. Yes, my poor husband is now in hospital. Because he couldn't do a number two…
They say it never rains but it pours. In our case, not only is my father still battling it out in ICU, but now my husband is in hospital too. Fortunately hubby should be out soon (I hope) but I just hate going back to that place again, even if it is in a different setting.
It all started last Saturday night. My husband woke me up asking if I had any medication for constipation and pain killers. He was in a lot of pain.
The next morning before we went to church he asked me to first get him some prunes to help the process.
Later that day he started vomiting and he did not manage to eat at all. He attempted to eat some grapes that night but he didn't manage to keep that down either, vomiting through the night.
On Monday the vomiting continued, especially when he moved. He was having stomach pains. When we finally made it to the doctor that afternoon he needed to carry a bucket to puke in.
The doctor did blood tests, an x ray and diagnosed that there was a bowel blockage and wrote a referral letter for the specialists at hospital.
So, off we went, via a babysitter for Nicky, as it was by now heading into late afternoon and evening and I had no idea how long this would take. Thank God for the precious people who have opened their homes to our little boy.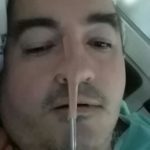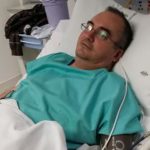 Brett started with normal x rays on Monday night. On Tuesday he had an ultasound which picked up that there weren't any gall bladder stones. He also had a CT scan which required authorisation. The next day there were more abdominal and chest scans. During this time a "wait and see" approach was adopted, as the doctors preferred a conservative approach of putting a tube down the nose to suck the contents of his stomach out first, rather than having an operation. He was also hooked up to instruments that measured vital signs. He had a drip for steroids for his kidney for dehydration. His blood sugar was elevated on admission so that needed to be controlled as well. The kidney had to be stabilised before the more intense x rays.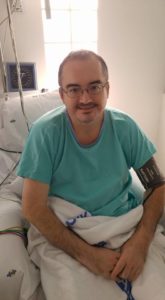 On Thursday he had another involved CT scan where he had to change position numerous times and wait inbetween scans. During the x ray he was warned that the process could dislodge the blockage. For the first time in five days he managed to have a bowel movement. The doctors were happy at this news and he was allowed to drink water. Up until now he had only been having ice.
His first meal on Friday evening was soup, jelly and a juice. It was very watered down. He continued with this for two more meals and had his first solid food on Saturday night and has continued with solids.
He may need a further endoscopy / gastroscopy procedure which entails a camera inserted inside to see what is going on, but otherwise he is doing well and can even, when unhooked, walk around and take a shower. This afternoon he was even able to visit in the waiting room and see Nicky, which was very special.
He is definitely in good spirits and hasn't stopped teasing the nurses and making sure all his electronics are plugged in.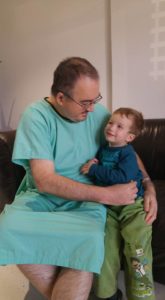 All the while I have, once again, had to arrange babysitting for Nicky and he has been having play dates aplenty. I think this has been really good for him to play with friends and cousins, although the late afternoon and evening drives have been difficult for his routine and now I try and avoid the evening visits. I think this experience has made me realise how much he needs this kind of interaction and how I need to set more of these playdates up.
I've also been busy this week with work and the blogger meetup #JoziMeetup which has been so incredible and an absolute privilege to organise, although a lot of work. Last night I was so exhausted I slept a solid eleven hours so now I feel much better and able to cope with the week ahead. The holiday program for our school is starting, which is less intense but still a lot of prep for the arts and crafts every day.
My father continues to work on his breathing and defy the odds in his survival. I cannot imagine how he must be feeling but I know I would also be incredibly frustrated to hear how Brett is moving from soft to real food and walking around while back in PE he remains immobile and absorbing some white liquid through a tube. But I intensely admire his will to live and determination to breathe.
Let's see what the new week brings and continue to take things one step at a time.
Related Posts via Categories
Comments
comments