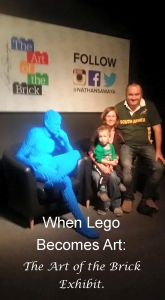 We celebrated Freedom Day today with my parents at "The Art of the Brick" exhibit at the Zone, Rosebank. This is the kind of thing where the adults enjoy the art work and the child enjoys playing with the actual lego at the end. This is why it is an excellent trip for families of all age groups.
Lego is a staple toy in every home. One of Nicky's favourite toys is a lego tractor which hooks up to a trailer. (He loves things that hook together). It has a clown, giraffe and a fork.
I have to tell you it had been forgotten for a while but the other day we found the clown. There was much excitement and the whole thing was assembled again. Then the clown got lost. Nicky was very upset. "Man!" he cried. We looked everywhere for this blessed man.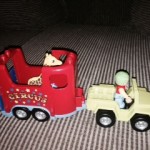 Eventually last week when my maid did not pitch (again!) and I had to do some basic cleaning in preparation for our visitors, I found the clown behind the curtain in our front "pool" room (it has a pool table). I told Nicky he was busy looking out the window! In any case he was very happy to put the whole lot together again.
In any case, getting back to the exhibit.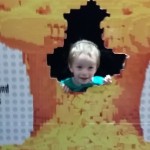 As you enter, there is this cute photo booth where you can place your head in the middle of a poster of the sculpture of a yellow torso spewing lego bricks. This was the first of many photo opportunities.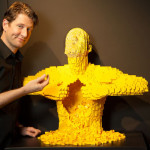 We were then shown a short movie clip about the artist, Nathan Sawaya. He used to be a lawyer until he decided to do what he loved: creating lego art. Around the exhibition are his thoughts on the creations, as well as some quotes. He also details how long it took him to make the sculptures – some took weeks and others, like the two dimensional paintings, took a few days.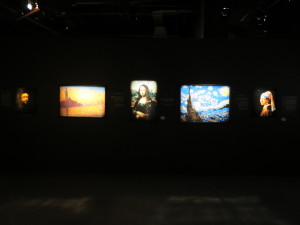 He replicates a lot of famous art works e.g. Mona Lisa, The Scream. One of the neat things he does is create a sculpture out of a painting: in other words, create three dimensions from two.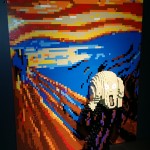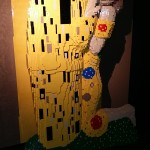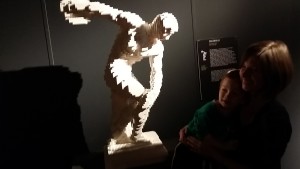 Nicky liked the man holding a ball. We took a picture of that one. There was also a cool one of a pencil.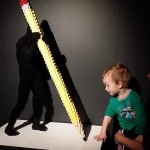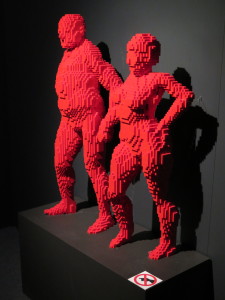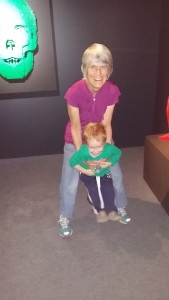 A special sculpture, considering the grandparents were with us, was this red creation of an older couple. The caption was "Everlasting" and it talked about how love can last. This is something I admire in my parents and aspire to myself.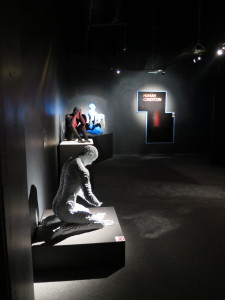 The section I found most interesting was the one entitled "human condition". This is where the artist displays emotions. He shows grief with a parent holding a child. He shows his ultimate nightmare: the loss of his hands: in a sculpture. One item has the head removed (to remove clutter he says).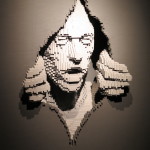 I liked "Gray" which shows a person breaking through a barrier. He says: "Taking a leap is hard. I used to be a lawyer. There was nothing wrong with being a lawyer, but I always knew there was another me, an Artist Me, lurking inside. Then one day I decided to let the Artist in me out, and I never looked back."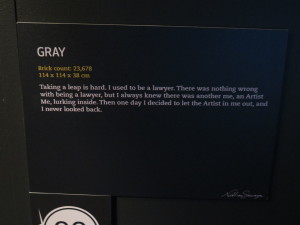 I think this is a great inspirational quote for encouraging you to follow your dreams. "Taking a leap is hard," yes, but at the end of the day it's worth it.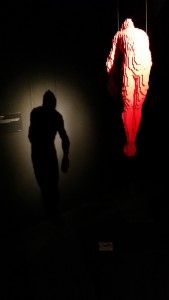 Another fabulous creation for following your dreams is this red one suspended from the ceiling. "What will lift you up?" is a really good question.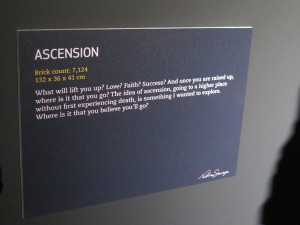 The largest sculpture was a dinosaur. How awesome was that?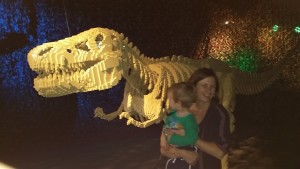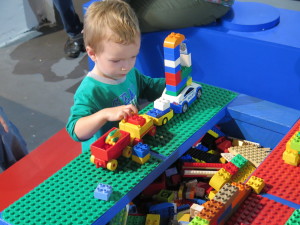 After all the lego exhibits came Nicky's reward. A place to sit and play with lego. He immediately went for the cars and linked them all up like he does with his one at home. He had a lot of fun. DH then helped him build a garage for his cars.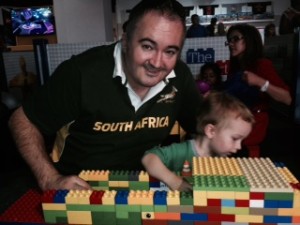 By now we were really hungry and headed off for lunch. We took some fabulous pics with the grandparents.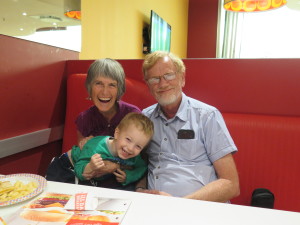 Thanks for a great day out, Grandpa and Granny!
This post is not sponsored and is my own opinion. The Art of the Brick Exhibit (http://www.theartofthebrickexpo.co.za/) runs until 2 August 2015.
Related Posts via Categories
Comments
comments