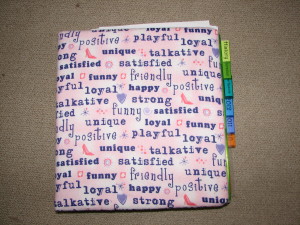 Niki's binder with all the inspirational words around it.
I have to admit it. I am a pretty messy person. My papers are pretty much in a mess. I have an overflowing filing cabinet. My records of my fertility journey have been scattered in various places all over the house.
It's funny the way opposites attract because Brett is the exact opposite. His clothes have to be hung in certain places. He keeps everything recorded in spreadsheets. My clothes are pretty much a mess, but I have, inspired by him, started keeping my expenses in a spreadsheet too. It doesn't mean the figures balance, but at least I am writing them down!
Well the time has come to create some order. For the past year we have been enjoying a maid who is keeping the house in a much better shape than it was before. My clothes are neatly folded and the place is clean.
Trying to create order when I am naturally a bit chaotic is hard for me, but I'm thrilled to keep all my fertility records in style with Niki's fertility binder.
Let's back up and tell you a bit about Niki. Every now and then I come across a blogger who I really like and click with, and Niki is one of those. I just enjoy reading her updates. She writes the most detailed posts. She has just been through IVF and she really gave us the blow-by-blow version. She even took pictures of all her meds. She even wrote down all the numbers involved. Here is an organised person. I got to thinking I need more of her spirit in my life.
Niki is not only very organised, she also is creative and talented. She makes binders. She makes fertility binders and baby binders. Oh, and according to her website, coming soon: the wedding binder!! I love the cover so much. Apart from the inspirational words it is so soft and it's like a much needed warm hug. 🙂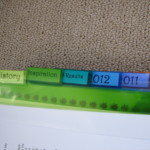 Niki has dividers so that you can sort your fertility life out: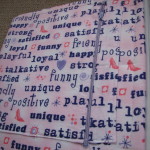 -a little pocket in the front for a pen
-a poem
-business card holder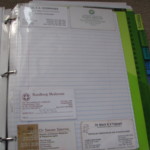 -paper
-History
-Inspiration
-Test Results
-and then the years: I was pretty specific about what I wanted when I asked her for one. I started with 2007-2009, then 2010, 2011 and 2012. Here's hoping this journey will not last past 2012.
-Extra info and master copies. She has info on what to eat, charting, and extra copies of other stuff. You have to get it to see!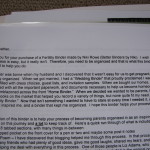 I think the best part for me was the personal note in the front about what was inside and how the binder came to be. So personal and true. And she even put a thank you card in for me! She's such a nice person I can't hold it against her that she is pregnant on her first IVF. In fact I want the same good fortune for myself. 🙂
I have to copy out the poem. You guys will love this:
IF:
If you can keep your happy face when all about you
Are announcing pregnancies and blaming faulty condoms
If you can remain calm when forever told to "just relax"
Yet make allowances for the naivety of the fertile
If you believe you'll achieve conception, despite your own body's effective contraception
Or you'll carry a child, and not give way to miscarriage
Or allow your men to pause, without fear of hitting the menopause
And don't panic at the tick of the biological clock
If you can talk at baby showers, and keep your tears in check
If you can read IF, without seeing the word infertile
If you can plan more than nine months hence
And not be stifled with thoughts of ..maybe..?
But enjoy what happens day by day without mourning the life you planned
If you can meet your period and a positive ovulation and treat those two the same
If you can fill an unsuccessful cycle with 28 more days of hope and love
If you can be pumped full of hormones and remain unmoved
Not crying more, nor allowing yourself to dream
Then yours one day will be the child, and all the love born from sacrifice
And- which is more- you'll no longer be infertile.
And you'll be doing a hell of a lot better than me.
by Liz
Related Posts via Categories
Comments
comments