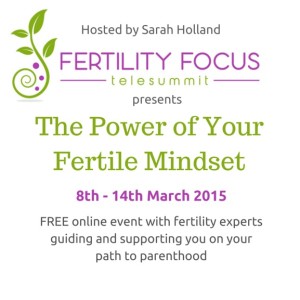 You have to admire Sarah Holland, the founder of the Fertility Focus Telesummit. She took a bit of a break for most of last year with the arrival of her second child through adoption but this year she is back with a bang with not only one, but three telesummits! The first one is coming up now in March and focuses on the emotional fertile mindset that you will need for the roller coaster ride of infertility.
Let's have a look at the line up of speakers. They really look interesting.
1. Andrew Loosely. This is a Chinese Medicine expert and acupuncturist. He will be looking how Chinese medicine views the 7 emotions, and the most important ones for transforming your fertility health.
2. Sjanie Hugo Wurlitzer – A published author and expert in the field of women's health, fertility and spirituality, she will be looking at the energetic and emotional pattern of your menstrual cycle as the map understanding yourself and creating a fertile mind.
3. Lynsi Eastburn – A registered psychotherapist, NGH Board Certified Hypnotherapist who will help you end that cycle of hopelessness.
4. Anya Sizer – a support advocate and patient co-ordinator, Anya is a mom to two IVF children and an adopted child herself. She will be talking on reducing stress.
5. Sue Dumais -yoga instructor and intuitive healer – she will be talking about emotional awareness.
6. Clare Blake – will be talking about fertility massage.
7. Molly Nichols – The founder of The Mind Belly Connection, Molly is a Mind Body Fertility Coach and an expert in teaching women how to use fertility visualizations to uncover and heal from the deeper mental, emotional and spiritual causes of infertility; so they can finally become pregnant and give birth to a healthy baby. After seven years of infertility Molly is now the proud mama of 3. Her twins who were conceived through IVF, and her daughter conceived 2 years later from natural conception.
8. Naomi Woolfson – A mindful fertility coach, Cognitive Hypnotherapist and founder of Mindful Muma-To-Be, she will be talking about mindfulness and hypnosis for managing stress and infertility.
Plus of course, Sarah Holland herself, Fertility EFT coach at Fertile Mindset, who will be talking about harnessing the power of your emotions plus discovering and demolishing emotional blockages.
I've written quite a bit about these telesummits before.
There was even that time when I was a guest speaker blogger back in 2011. They always give you some really nice free gifts – in past years this has been charts, yoga recordings, and digital ebooks.
This is what I wrote back in 2011, a few months before I actually got pregnant:
Last year the Fertility Focus Summit was a huge help to me. I bought all the recordings and listened to them one by one. I savoured the information and learned from it. I also landed up getting some really cool bonus gifts (I remember one was a fertility yoga leaflet, which I have subjected my pupils to during gross motor – evil grin) and another was a consultation with a lady which was very encouraging. It was also full of the usual tips you'd expect to hear about infertility, but also some new learnings e.g. don't take your iron tablets with the other vitamins (it absorbs them), rather take it with Vitamin C (for absorption). This was from Marilyn Glenville, whose book on "Getting Pregnant Faster" is in my fertility book collection.
You can listen to Marilyn in a pre- event presentation here and also have free access to the week long summit. She will be sharing insights into how the body really responds to stress, and which food can send us on to a stress roller coaster.
The point I am making is that knowledge is power. I credit these telesummits for giving me really useful info as well as the confidence I needed. I really recommend buying the recordings if you can't make their free broadcasts. It's something you won't regret. Go here for more information.
Related Posts via Categories
Comments
comments