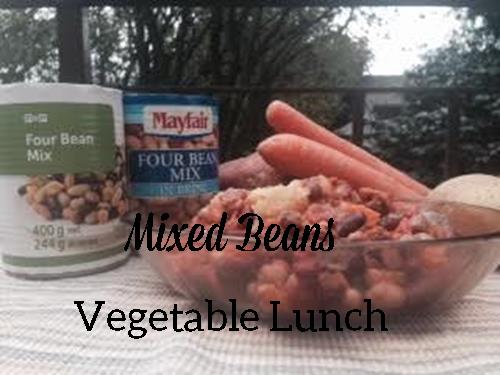 Last week I wrote about the food groups and one of those groups are legumes. I wonder though, how often we actually do eat beans? Other than adding baked beans with your meal, which is boring, what can we do to spice them up?
I have a solution. I've renamed it Mixed Beans Vegetable Lunch. The original was called Three Bean Vegetable Chilli and it is the one recipe I'm still eating from the dietician I saw earlier this year. This is the food I precook on a Sunday and eat as a lunch throughout the week. It's tasty, healthy and filling.
I found some different information on fertility and legumes on the internet. Soy can mimic estrogen and give hormonal problems. But we're not cooking with soy today.
This site (Fertility after 40) recommends one serving each day of beans, legumes, lentils, or nuts for fertility enhancing plant-based protein based on a study of those who successfully conceived eating more plant protein. They also caution against soy based products like Tofu.
Another reason to eat beans is the fibre which regulates blood sugar. I find this meal is great after I've had something sweet – it does seem to help regulate things.
Without further ado, here's the recipe:
15ml olive oil
onion
2 carrots, diced
1 red pepper, chopped
1 clove garlic, finely chopped
1 jalopeno pepper, seeded and minced (I don't use, but use if you like it hot)
20ml chilli powder (I only use 5ml) (depends how spicy you like it)
10ml ground cumin
7.5ml dried oregano
1 can chopped tomatoes
250ml water
Cans of beans: You can do 1 can of black, one red kidney and one butter beans (original recipe). However I take two cans of mixed beans (two different makes). It gives variety.
2.5ml salt (I don't add it)
Garnish: fresh coriander and finely chopped red onion. (I don't bother with this!)
Starch: You can choose: potato or sweet potato or both. I normally do two sweet potatoes and three potatoes. It depends on the size. This past Sunday I had two huge sweet potatoes and two small potatoes.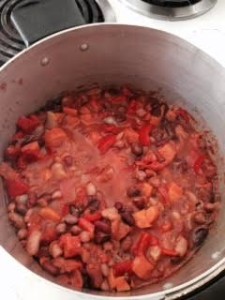 Instructions:
Fill a pot with water and peel and chop your potatoes. Let them simmer and mash them when they are ready.
While that's cooking, heat your oil in a nice big pot and add onion, carrot, peppers, garlic, jalapeno and cook until onions are translucent.
Add the spices and cook for a minute, stirring frequently.
Add the tin of tomatoes, the water, the beans (drained and rinsed) and salt (if you like). Bring to the boil, reduce heat and simmer uncovered for 30 minutes.
Garnish with coriander and onions.
Divide into your lunches for the week: (with the mashed potato underneath)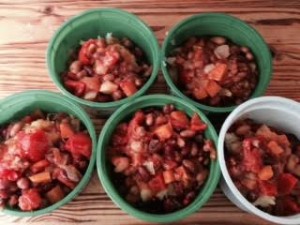 Related Posts via Categories
Comments
comments