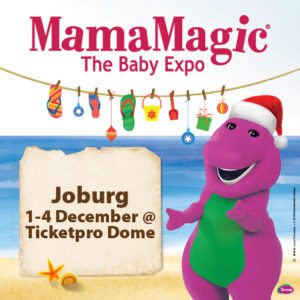 Mama magic is definitely the place to go if you are expecting, or if you have young kids. Not only are there a heap of interesting exhibits but of course there is the Barney show, and loads of entertainment for the kids.
Mama Magic is happening again between the 1-4 December at the Ticket Pro Dome by Northgate mall, Johannesburg.
I've written about our trips to Mama Magic twice before: the first time when we met Barney that was certainly a thrill, plus I spotted some interesting products along the way. The second time was earlier this year, and although Barney wasn't the same thrill as it was last time, he had a lot of fun in the Dettol ball pit, playing with Duplo and walking a blow up dog from the SPCA stand. My partner on SA Mom blogs, Laura,  also did a post about some new products that they had last time around.
The other notable thing is that Baby City have a huge section at the show and there are always specials on nappies. I think some people come to the show just for that.
One of the things you probably don't give much thought to when having a baby is the financial side. (I think I was so focused on actually having a baby it wasn't until a year later when I started a savings plan for his education). Futhermore, what do you do if bad things happen? What kind of insurance do you have in place?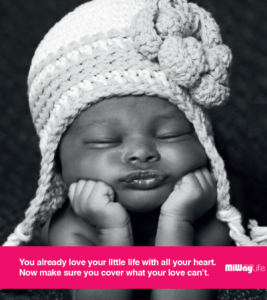 MiWayLife will have a stand at the expo and they will be there to chat about baby cover and child cover. You can read more on this link. But basically it gives you peace of mind that if anything happens in the birth/ newborn process, or as a child until 18, you have peace of mind that you will be covered.
MiWayLife are also giving away ten tickets (each ticket admits two adults) on this blog. All you have to do is follow the Rafflecopter prompts.
Terms and conditions:
You must be able to attend the Mama Magic Show on Thursday or Friday (1-2 December) in Johannesburg
By entering the competition you give permission for me to pass on your email to MiWayLife
The competition will run until Wed 30 November and the winner will be emailed and also announced on our Facebook page.
Related Posts via Categories
Comments
comments