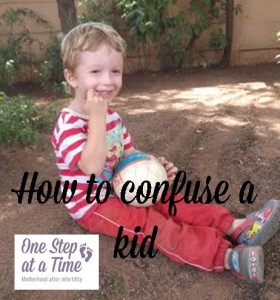 How do you turn things around when you've let a swear word slip out? It turns out you have to be pretty creative and my DH is good at that.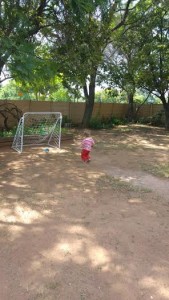 It all started yesterday afternoon. DH and Nicky were kicking balls outside. (I think he is trying to get Nicky not to pick up the ball before he kicks it against objects for soccer, using two litre bottles filled with water instead of cones).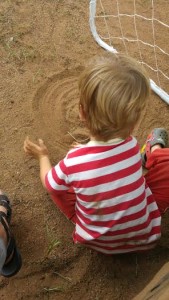 In any case, Nicky soon thought it would be more interesting to play in the dirt instead. As he does. And on this occasion, instead of just kicking the stuff, as he usually does, he dived right into it. And for some obscure reason, decided to have a mouthful.
Of course, eating dirt is not one of those things we like Nicky to do. As he entered the house proudly showing me his very dirty clothes and face, with the sand practically falling out of his mouth, DH warned that he would be "sh**ing bricks" if he continued to eat it.
It was at this point that I reminded DH of Nicky's very impressionable mind and the likelihood of him repeating these words to all and sundry.
It was then that DH hit on another idea. "Nicky, what did I say? Would you like to SIT on bricks?" He then proceeded to show him pictures off the internet. This led to pictures of cars sitting on top of bricks, which of course our car fundi was very interested in. He also liked the cat sitting on bricks. "I want to sit -a- bricks!" he now repeated.
Well, I guess that was better than the other version.
Related Posts via Categories
Comments
comments