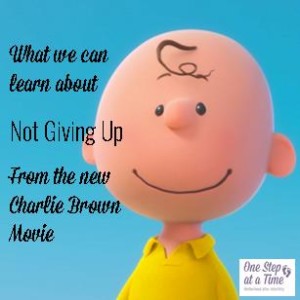 Snoopy and Charlie Brown, the Peanuts Movie, is currently showing in cinemas. The story of a boy who, despite his insecurities, does not give up on flying a kite and talking to the little red haired girl is charming holiday fare for the kiddies and also something for the adults to take away on perseverance.
I found the movie an encouragement and there were a few lessons I took away. Ending 2015 without a job and without a pregnancy can be a bit depressing but I think that Charlie Brown has some inspiration for me.
Be prepared to change your plans. Charlie Brown decides to take part in the talent show as a magician to impress the little red haired girl. However his sister's show turns out to be a disaster and in order to help her he has to abandon his magic act. It's the right thing to do for her and at the end of the day it endures him to his love interest too. Sometimes we initially think that helping others will be detrimental to our own plans but they can actually be the opposite. Changing plans is hard and for me perhaps approaching my problems from a different direction will be beneficial.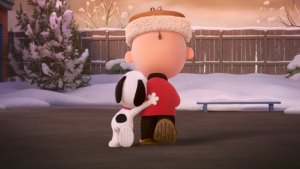 2. Hang out with supportive friends. I think that this movie highlights how supportive a dog can be. I have certainly found that in my life (remember how both dogs lay on my bed after my laparoscopy operation, very unusual, especially for Milo). Dogs give unconditional love.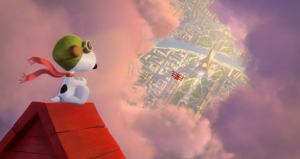 Of course Snoopy is much more than a just a dog in this movie. He practically pushes Charlie Brown to the door to talk to the little red haired girl. "It's moments like this when you need your faithful friend" Charlie Brown says. Snoopy also took part in a lot of flying (on his kennel, of course) in this movie, and I think this is the part Nicky enjoyed the most. Snoopy had to outwit the red barron and rescue "Fifi".
Another supportive friend is Linus, who has a lot of encouraging things to say to him in this movie. We all need people like that and I'm blessed to have quite a few.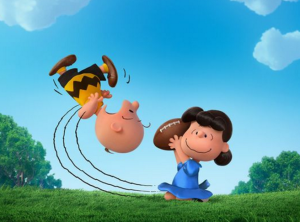 3. There will be bullies and people who put you down. Charlie Brown has a lot of friends, but to me they seem to be rather nasty to him a lot of the time, particularly Lucy. Lucy has this to say about Charlie's efforts to fly a kite: "What kind of a person tries to fly a kite in the middle of winter? You will never get that kite to fly. Why? Because you're Charlie Brown!"
Taking a football away from someone trying to kick it is just plain mean.
Personally I think it's best to avoid these kinds of people, it seems to be self sabotaging to keep hanging out with them. I was going to say I don't think I've had a lot of experience with this but in the past I have had some horrible people I've had to work with and I still stuck around. Well I guess you have to have enough of the good people in your life to balance that out.
And, just maybe, the naysayers will actually be proved wrong.
Lucy van Pelt: [to Charlie Brown] I hate to admit it, you blockhead, but public opinion leads me to believe that after all these years, I *may* have been wrong about you. This has not been easy for me.
[pulling her hair]
Lucy van Pelt: MY WHOLE WORLD HAS TURNED UPSIDE DOWN!
4. Be honest. Charlie Brown realises that the paper in front of him that he apparently scored 100% for is actually Peppermint Patty's. He has to own up to the fact that this is not his work in front of the whole school – a daunting task. It's hard to admit when we have been wrong, even if we didn't realise it. I've also been guilty of some mistakes like that recently but saying sorry and figuring a way out of the problem does help.
5. Have humour. Charlie Brown tends to be a bit on the anxious side and I think this movie pokes fun at our ability to think the worst of a situation. When he has to do a book report with the little red haired girl he stresses out a bit and Linus is there to encourage him and put things into perspective.
Charlie Brown: You've got to help me, Linus! I'm not sure I can handle being partners with the Little Red-Haired Girl! How will I support her? I can't afford a mortgage! What if I'm put into escrow?
Linus: Charlie Brown, you're the only person I know who can turn a book report into a lifelong commitment.
6. Just when you think nothing can go right, the thing that you thought was so awful actually helps you. At the end of the movie Charlie Brown is about to miss the little red haired girl getting on the bus. He says:  "The whole world seems to be conspiring against me. I'm just asking for a little help for once in my life".
A kite flutters down and he is just angry. This is another reminder of another thing he can't do: fly a kite. But, in an amazing moment, the kite lifts him up and helps him get to the girl of his dreams. He is actually flying a kite!
I can think of a lot of times in my life where a thing that looked bad actually paved the way for something good. One example is how disappointed I was about having the laparoscopy operation, but cleaning out my insides prepared a space for Nicky. Right now I have to believe that failing all the job interviews and not getting pregnant is preparing me for something else.
7. Trust in God for your own happy ending. Because this is a movie, we have a happy ending.  Charlie Brown speaks to the girl and he flies the kite.
But much of life is lived in the middle, and you have to trust in God that He knows what's going on and why. We don't know how everything is going to pan out. We have to trust that things are just going to work out and that God is up there, cheering us on.
Now this movie doesn't mention God but it does talk about a helpful star. So let that be your encouragement, that there is Someone out there looking out for us in the hard times.
So… go out there. Take a deep breath. And fly your kite. You can totally do it.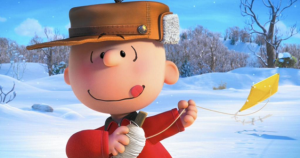 Some last words from Charlie Brown:
Whenever I feel really alone, I just sit and stare into the night sky. I've always thought that one of those stars was *my* star, and at moments like this, I know that *my* star will always be there for me. Like a comfortable voice saying, "Don't give up, kid."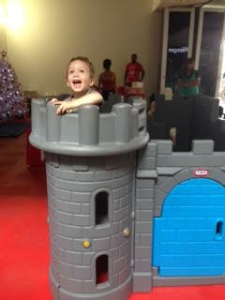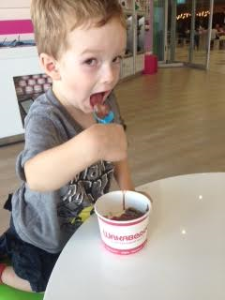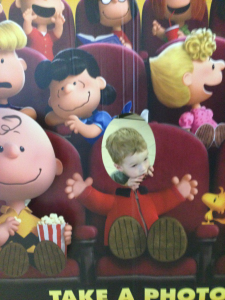 (I was invited to the movie by the Zone at Rosebank, who have recently also redone their Food Court. Go ahead and check it out and also some other family friendly movies coming up: Alvin and the Chipmonks: Road Chip, The Little Prince and The Good Dinosaur.
We also spent some time at the food court play area – Nicky liked the castle. We had some Wakaberry too which Nicky couldn't  wait to eat.)
Related Posts via Categories
Comments
comments