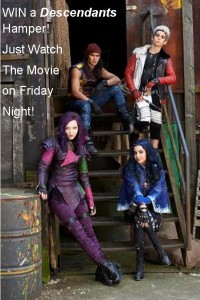 I have already blogged all about the Descendants movie here: a feel good teenager/ coming of age/ high school musical / entertaining movie.
Read all about the characters in my post! And make sure you watch the movie on Friday Night on the Disney Channel 303 on DSTV.
Here's a quick roundup of the key players in this tale:
Villains's Kids:
– Mal, the leader, the daughter of Maleficent
-Evie, with a talent for clothes design, the daughter of the Evil Queen from Snow White.
– Jay, the pick pocket son of Jafar from Aladdin
-Carlos, the dog loving son of Cruella de Vil
Heroes' Kids:
-Audrey: Daughter of Aurora, the Sleeping Beauty
-Chad, Cinderella's son. This is the dude that uses Evie to do his homework! (Not so good, huh!)
-Doug, son of Dopey the dwarf, a better match for Evie.
-Jane, the plain girl, and also the Fairy Godmother's daughter, who wants to use magic to make herself look pretty.
-Lonnie, Mulan's daughter, who is friendly towards the villain's kids.
-Prince Ben is the son of Queen Belle and King Beast. It was his idea to invite the villain's children. He is also Mal's love interest.
You can win a Descendants Hamper which has:
– Descendants CD
– Bag
– Key Holder
– Mal's sketch book
– Stickers
– Pen
This is what we did with some of the stickers: stuck it on Nicky's train box: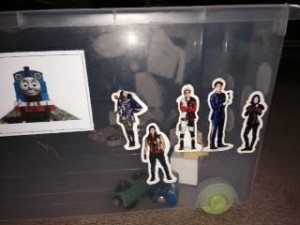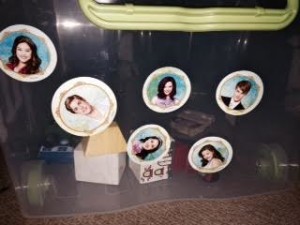 All you have to do is answer this question: Who grabs the wand in the end? Answer in the comments below.
Watch the movie to find out: Friday 18 Sept: Disney Channel 303 on DSTV.
Related Posts via Categories
Comments
comments