Today as I was throwing yet another dirty nappy in the nappy bin my mind was drawn to the action. Throwing is actually a task I have mastered and it has a function. I guess it is a function of context. You can throw balls. You can throw objects into places where they must go e.g. nappies in the bin. But you can't go around just throwing things anywhere. It isn't socially acceptable.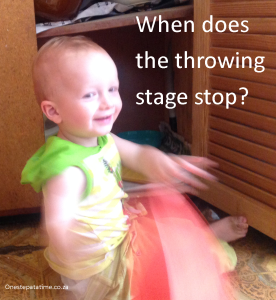 Which brings me to my throwing child. He is pretty much throwing everything he can lay his hands on at the moment.
-Food. Loves to give the dogs snacks. I can understand this to an extent. I also get that when he's had enough that's his way of communicating it to me. Also there has been an improvement. He is eating more and throwing less. But there is still throwing.
-Toys. He loves to throw his balls. He makes a huge mess all over the lounge.
-Objects. Loves to unpack the cupboard and throw the tupperware (see picture). He especially loves the lemon squeezer. It makes a louder noise when thrown!
-Dog food. Don't get me started. I'm pretty good at removing it. But there are always a few dog blocks lying around that he gets hold of and throws. Although I have seen him putting them back in the dog bowl sometimes.
So, I decided to turn to Google on this question: "When does the throwing stage stop?". I mostly got ways to stop it. I added in "attachment parenting" and got more advice. But there wasn't a lot out there on accepting it.
I dug out my Discipline without Distress book. This book has a whole lot of problem scenarios and solutions at the end of the book. So I looked up throwing.
First of all it looks like it is indicated between 1-2 years old. That would answer the "how long" question.
"Throws food from high chair": "Accept that it's normal exploration. Watch for when child is done eating and doing more playing. Have shower curtain under chair. Remove from chair. Have a naked lunch."
As I mentioned already, there is a way of him showing that he has had enough when he throws, but not always. I notice it is towards the end of when he eats. And yes, we do have a lot of plastic under his chair. Those bibs with the scoop under them are life savers by the way.
"Throws water from the bathtub": "Remove water. Take the child out of the bath."
This is a problem for us. Our bathroom is carpeted which makes it even worse. However, like the food, I've noticed it is a signal for being done. So when he starts throwing water it normally means it's time to get out anyway.
"Throws toys": "Teach calm down tools. Acknowledge feelings of anger. "You are angry. That's okay. However, I don't like toys thrown. Here, try this."
I have noticed there is a certain anger to the way Nicky has been throwing lately. It used to be more fun and playful. So I did mention this to him the other day. The thing I really want to work on is putting things back. I know it may be a bit beyond his abilities, but even if he does one ball, or helps me with it somehow, I will consider that a win.
Here is a good extract I found from Alternative Mama.
Attachment parenting does not mean zero consequences for inappropriate behaviour. People who practice attachment parenting generally veer away from punitive methods – this is called gentle discipline or loving guidance, and it does not mean that there are no consequences for their children's actions. In our house, consequences are logical and natural. If my 3 year old is throwing a toy in the living room, first I ascertain why he is throwing. Is he frustrated? Angry? Overexcited? Once I have pinpointed the reason for the behaviour, it's time for guidance. If he is frustrated, I might say "I can see you are feeling very frustrated. Throwing makes you feel better, but It's not okay to throw toys in the house because somebody might get hurt. Would you like to throw a ball in the garden/go hit a pillow/have a cuddle with mummy instead?" If the guidance goes unheeded, and we cannot, together, find a solution, the toy is removed. My son knows that the removal is not a punishment – the removal is to keep our family and our possessions safe. For those who aren't familiar with gentle discipline/loving guidance, it can look to the outsider like permissive parenting….. Loving guidance is about connection and teaching life lessons, not putting the child "in their place".
Even though her child is 3 she is dealing with the same issue in an admirable way, acknowledging feelings, communicating the limit and targeting alternatives (ACT method I learned at play therapy). I need to get into this habit now.
Most of all I need to regulate myself and keep myself calm so that I don't show Nicky a person that loses it and throws things too. I am a work in progress. I generally don't throw things but I do lose it and I need to work on that.
Nicky is learning the skill of throwing. It drives me crazy but every now and then I catch a glimpse of the miraculous right in front of my eyes.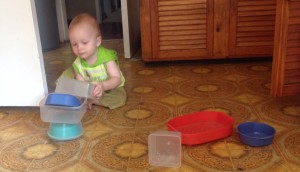 1. After he threw all the plastic containers on the floor he started stacking them carefully.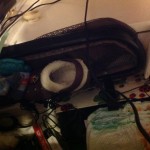 2. After unpacking all the nappy changing stuff (creams, etc) he put everything back, including some stuff that was on the floor (shoe and sock).
There is method behind the throwing. I just need to open my eyes and see it. I also need to start getting him to pack things away and distinguish between what is just naughty and what is developmental.
Related Posts via Categories
Comments
comments