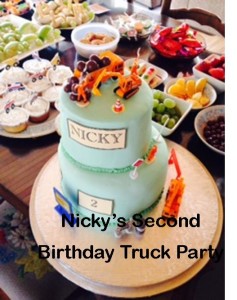 Nicholas is TWO! My little baby is becoming a more independent toddler every day. He is asserting his will. Even his language is improving. He often copies words that I say.
Translation of some of the words he has been saying:
Ai! (waving hand) = Bye!
Boo! (Pointing above) = Moon!
In any case, he has been totally spoiled this week in the lead up to his party.
First of all his grandparents arrived and they have been enjoying spending time with their grandson. My father in law has been fixing all the leaking taps in the house as well as the stove. My mother in law has been baking up a storm of cake, cupcakes, cookies and tarts. Suffice to say I'm sure I've put on some weight while they have been here! But they have been a big help.
My DH got a little car for Nicky to drive. It was a second hand one from someone at his work who bought it for his daughter. So yes, it was pink. But who cares, Nicky is loving driving it around. However we have to watch him because of course he hasn't got the hang of stopping. He knows how to go, though!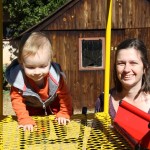 The next treat to arrive was his jungle gym (from Junior Playgrounds). We wanted both a slide and swing and this one was ideal. They set the swing at the lowest setting so he can climb on himself. He can slide but at the moment prefers to go down on his tummy.
Here is a video of him sliding down for the first time on his new present.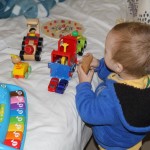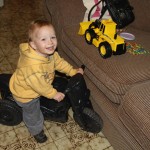 On the day of Nicky's actual birthday he was surrounded by his favourite things: wheels. He got lots of presents of various cars and trucks. As you can see he likes to put them at eye level and move them around. My parents got him a toy piano which was lots of fun too. We also got him a scooter.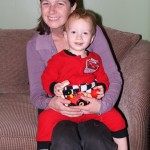 How cute is this little car onesie from his aunt, my DH's sister? He will be snug and warm and it will keep the heat in. It is also super adorable.
The actual party followed the next day.
I have been looking at the internet and collecting ideas for ages on this Pinterest board.
I started by shamelessly copying both the invite and cake from Mo at The Baby is Fine from this post.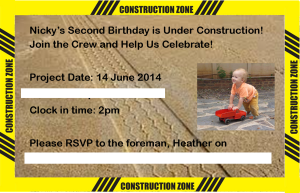 Our cake was also two layers and we put some plastic trucks on it. I used chuckles chocolate balls coming out of the truck on top as boulders. Nicky also has a construction set which we haven't really opened yet as he is a bit young for it, which we used for signs and construction figures.
In an attempt to have healthy snacks as well as sweet, I had the following: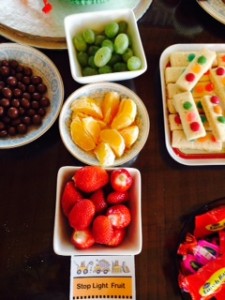 Traffic light fruit (idea from pop mommy). I used grapes, orange and strawberries.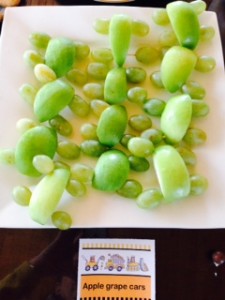 Apple and grape cars  and banana scooters (more ideas from parenting)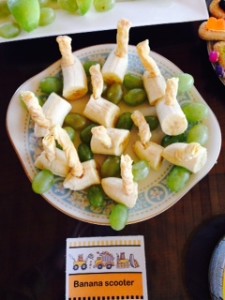 For the scooter I used banana, grapes and a cheese stick at the upright part.
I have to say I thought people would not eat the healthy stuff but surprisingly it was all consumed. It just shows that if you present fruit in an interesting way the people will enjoy it.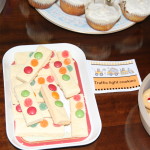 We also had sweet cars and traffic light cookies.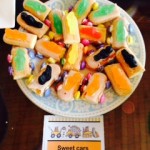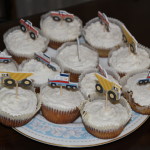 I found these cute cupcake holders and toppers at Home Stuff at Brightwater Commons, but I see they have a website and more products here.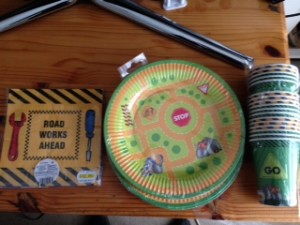 The serviettes, cups and plates I actually got from Woolworths. It was near the till at Cresta and it was just by chance that I saw it.
(So weird now that the party is over I have to stop myself looking for anything with a truck theme. The party is over now!)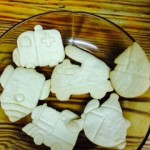 We also baked cookies which had a transport theme. I also got the cookie cutters from Home Stuff. There were trains, helicopters, trucks, boats, rockets and ambulances.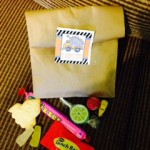 The party packet: I just used a brown packet with various sweets, toy cars and little balls (from Hayoung in Republic road). They also got a cookie.
The template for the badge on the party pack and the labels for the food I got from this site.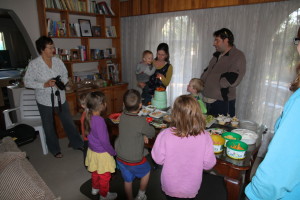 Nicky had a fabulous party and the kids enjoyed playing on the jungle gym too.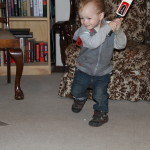 He got some fab presents again, and especially loved this bat and ball.
All in all we are so blessed to have Nicky in our lives. Happy Birthday, Nicky!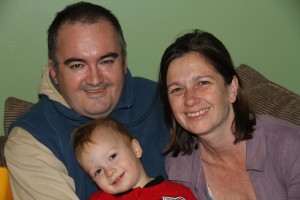 Related Posts via Categories
Comments
comments