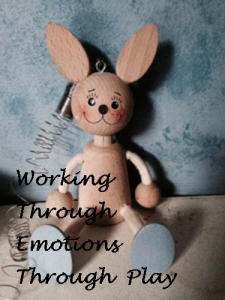 So, we've established that Nicky likes to have a comfort item near to him – a toy, a car, a biccy, and most recently I posted about his "Zee-bra". Well, the zebra has been lost for a while, but Nicky found another toy he likes – a wooden bunny given to him as a newborn by my mother-in-law. It has a spring; it's meant to dangle above a cot. Nevertheless this toy and others have extended their baby life into something even more useful: working through emotions through play.
We spend a lot of time playing with bath toys in the bath and the other night I observed more closely the meaning behind what he was doing. Nicky loves to squeeze his fish to make it "pee" and attempted to make it squirt so that it would "pee in the potty".
I think the whole potty training thing is stressing him out as much as me…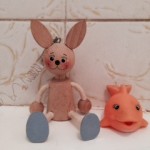 The bunny had his own potty. He used a cup that usually gets used for pouring water. Nicky said "Pee in potty!" to the bunny.
The wooden nature of this bunny is a lot of fun to play with in the bath. He was gurgling happily away and when I looked closer he was pushing it down and watching it float back up. "Bunny!" he laughed.
Bunny then went swimming in the bath. He was told that he must "Kick! kick!" Yes, I do ask Nicky to kick during swimming lessons…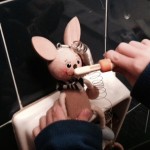 Bunny even got his own teeth brushed when it came to brushing teeth time.
***
Quite a few years ago, long before Nicky was born, I was a volunteer play therapist at a church. We saw a lot of kids going through divorce. They played out their emotions through the toys. Disaster zones were created, with fire engines and ambulances. Life boats with survival equipment were brought to life.
Nicky is  a lucky boy. He is living in a loving home and he hasn't experienced the trauma that these kids have.
But I am reminded that little things do trouble him, and he is working through these with his objects of comfort – toys that he becomes attached to – for whatever length of time.
***
By the way we are making some progress on the potty training. Yesterday he told me he needed to pee and then he pooped on the potty from start to finish. Yay! Today… well we got there halfway through. But I know it is a process and he will get there in the end. I have become more accepting as I realise that he does not need my extra stress.
Nicky, and Bunny will get there in the end.
Related Posts via Categories
Comments
comments