Everyone has sensations that remind them of home and one of the most common ones is the smell and taste of a home cooked meal. The temperature is definitely dropping these days so I though I would share some soup recipes. Whatever it is that brings you closer to fond memories, remember that you can create your own traditions in your own family and I'm hoping that these resources can do just that for you.
At the end of this post you can also enter a giveaway for a Knorr hamper – a name I certainly associate with soup, but they make lots of other yummy things too. They have also created a video about  delivering a home cooked meal from her mom to a daughter stuck in the Arctic! I complain about my family being far away in the Eastern Cape, but that is far!
Pea Soup: Recipe from my mother:
Ingredients:
1 Onion
2 cubes chicken stock
500g (bag) of dried peas
Chicken spice
Bits of cooked bacon/ham
Mint
1. Fill a pot 3/4 with water.
2. Add finely chopped onion.
3. Add 1-2 cubes of chicken stock.
4. Add the bag of peas.
5. Sprinkle on top with chicken spice.
6. Bring slowly to the boil and simmer for an hour or two until it is soft.
7. Optional: add bits of cooked bacon or ham.
8. Serve with a sprig of mint on top.
Butternut Soup: Recipe from my mother in law:
Ingredients:
1 large onion
1-2 cubes chicken stock
1 large butternut
Black pepper
Mixed herbs
1. Fry the onion in the pot on a low heat in a teaspoon of olive oil until soft but not brown.
2. Crumble a chicken stock cube over the onion in the pot (2 cubes if it is a large pot).
3. Peel a large butternut. Cut it into blocks and add them to the pot with water. If you are going to freeze the soup rather freeze thick soup, you can thin it later with more water.
4. When the butternut is soft, mash it.
5. Add the black pepper and mixed herbs.
When thick soup is defrosted thin it down with boiled water.
***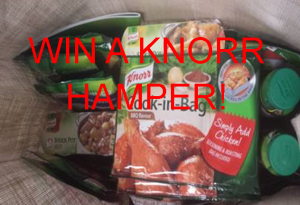 WIN A KNORR Hamper!
The hamper contains:
4 pkts beef stock pot, 4 pkts chicken stock pot, CIB (Cook In Bag) lemon and herb, CIB garlic and rosemary, CIB spicy roast chicken, CIB BBQ flavour, mushroom sauce, creamy ranch dressing, macaroni and cheese pasta and sauce, light yoghurt and herb dressing, beef stroganoff, brown onion soup, spaghetti bolognaise.
This competition is only open to South African residents.
Related Posts via Categories
Comments
comments