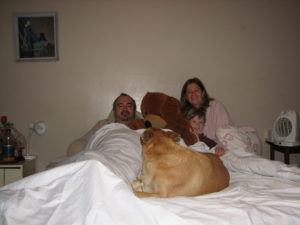 Ok who am I kidding? Very few moms sleep in. Well, until their kids become older.  But we try on weekends to have a little bit of a lie in. Appreciating the weekend and all that.
I've written a post before about the family bed on this blog. You'll see in that post why I feel it is so important to keep your little once close to respond to their cries. I read a book of the same name and it gives an anthropological history of bed sharing and compares different cultural responses using the studies of Margaret Mead. The main theme is that when baby is close to mom, he or she feels secure and there is less exhaustion on the part of the mom too.
Our bed has seen some changes over the years. I still remind DH I paid for half of it when we first got together! When Nicky came along we put a camp cot next to the bed and he slept there for probably about three months. After that he moved into the bed and waking up at various times in the night was more bearable when I only had to roll over and feed.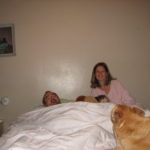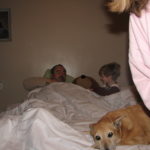 Poor DH had to go to another room to get any sleep. Eventually we figured out a neat idea: add another single bed to make the whole sleeping area bigger. This worked for quite a while until at around two we made a concerted effort to get Nicky into his own bed.
Nicky isn't bad at staying in his bed. The problem is that he is really good at calling me in the middle of the night. So he sleeps a good chunk during our evening, but at some point in the night he is going to bleat like a little lamb and I'll wake up in the morning cramped up in his single bed with absolutely no recollection of how I got there. Oh well, this too shall pass, and maybe one day I'll miss that cute warm little body next to mine.
In the meantime we do get family value out of the big bed, even if Nicky isn't in it anymore.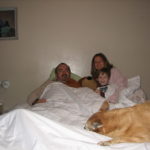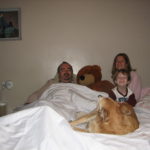 After bathtime one of the things Nicky loves doing is jumping on the big bed. He also likes to build houses (or ramps) with pillows.
On weekends we often come together in the bed. Nicky likes to go under and with loud cries of "Make a tunnel!" he will torpedo himself from one end to the other.
With all this rough and tumble it wasn't a big surprise recently when I noticed a tear in our bedding. And with a new season upon us, it's a good time as any to spruce up the bedroom.
The bedding by Sixth Floor on Superbalist has a variety of different offerings to suit every taste and budget. You'll see we are sitting in the white one which has black piping. If you're wondering about the gigantic bear – well it was Nicky's turn to have Travelling Teddy this week and he just came along for the ride. And Coff dog is not being very photogenic.
Sixth floor is Superbalist's inhouse offering to cater for a more affordable choice when it comes to bedding. You'll see from their bedding options that there is still a wide price range, so you can go for the style and price point that suits you and your budget.
Here are some examples of their offerings – you can click on the picture to go directly to their site. For the full range of their bedding go here.
You can also get 25% off if this is your first Superbalist purchase. They have apps on Android and iOS.
Disclosure: This is a sponsored post and we were provided with the duvet set.
Comments
comments