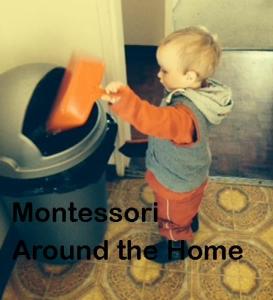 You don't have to have all the Montessori materials to use her philosophy in your home. I have been noticing what my toddler is doing around the house and can see how it slots in with at least two of her different categories.
1) Practical Life:
Practical life is just as it suggests, the normal day to day stuff we have to learn. Anything from sweeping, mopping, pouring to the more intricate activities (which will have to wait a bit) of threading and tweezing.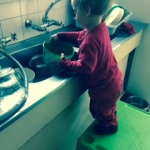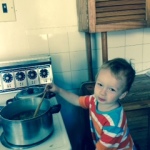 As you can see from the main picture, Nicky can scoop up dirt and put it in the dustbin. He stands on the table and "washes the dishes" and even tries to stir my stew. It is irrelevant that he isn't completing the task as yet, the point is that he is trying to do what I am doing and take part in my daily jobs.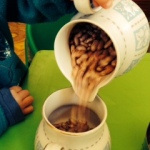 We started pouring with water, but now we also use seeds or beans. They make a nice noise too. One of those lovely blue china jugs (inherited from my grandmother) broke the other day. I'm using plastic now, but at least he's learnt that real objects break, which is another Montessori take home lesson.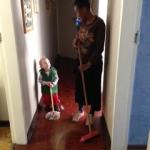 Of course many of Nicky's activities result in a lot of mess but this is an opportunity to clean up. He can use the dustpan and brush (with some assistance) and he also likes sweeping and mopping. Here he is with our domestic worker.
2) Sensorial:
A lot of the sensorial tasks are about sorting and sequencing. I hope to get some real ones going at some stage but I have to say Nicky is using his passion to do this already. Of course, he likes to use his cars.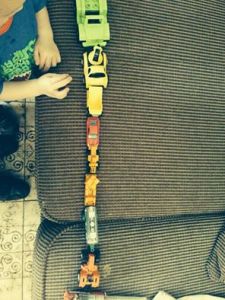 Nicky will sequence his cars from biggest to smallest and even put colours together.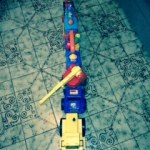 He has started doing it to his bigger cars too.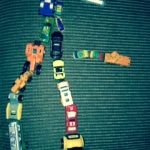 Sometimes they go in streams of different directions.
He seems to really enjoy playing with his cars. Everywhere we go we have to take a car with us.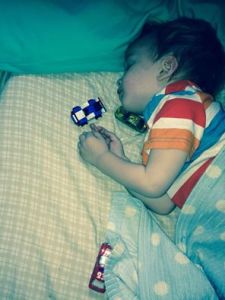 And when it's time for sleep – guess what has to come with? Sometimes even more than one car.
My little Nicky Noodle just loves his cars.
Related Posts via Categories
Comments
comments