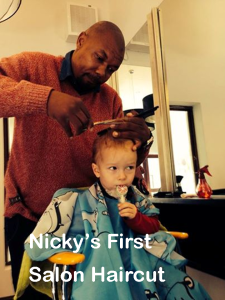 I was driving back one morning from dropping off my hubby when I was handed a pamphlet for "The Pear Tree", a venue where you can get your hair and nails done while someone looks after your kids.
This appealed to me on a lot of levels. I only have the maid once a week on a Friday, and basically that is mostly taken up by the morning grocery shop (which Nicky joins me on while she vacuums). Then it's nap time which I like to use to work, but I can also use that time to pop out. Once Nicky wakes up there really isn't much time before she has to go again. Plus these days she isn't that reliable (Friday she cancelled again).
So I was glad last Thursday to book appointments for both Nicky and myself without having to worry too much about childcare. For R50 they will look after your kid while you sit in their coffee shop or get your hair done. They also have fitness classes (pilates and yoga).
My hair was cut by the very capable Mavuso. He has a lot of experience and has worked for Gary Romm for two years as well. He has also cut a lot of kids hair. He is a father to three kids as well. I think this is the first time I've had my hair properly styled and it felt nice.
Nicky played very happily in both the indoor and outdoor playgrounds. He apparently spent a lot of time in the sandpit and got a bit sunburnt (oops I forgot to put sunscreen!). They even fed him. They took him to come have a look where I was as well.
Then his time came for his haircut. We have done our own thing twice before but he has been looking a bit unkept. At the start they strapped him into this high chair and he cried as Mavuso cut at the back. But TK gave him a lollipop pretty soon and that helped a lot.
At the end of the day it was a fun outing and we both looked much better.
This evening I cut hubby's hair and now we are all looking good.
Here are some pics of us with out new haircuts:
Related Posts via Categories
Comments
comments