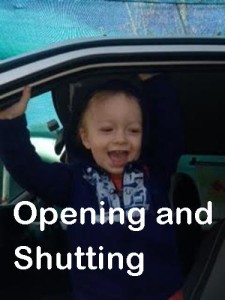 I remember the nurse at the baby class saying that in the first year, babies want to know what things ARE (i.e. put it in your mouth and discover it with all your senses) and in the second year they want to know how things WORK. In other words, they love exploring the function of things.
As Nicky hits 25 months he is now actually in his third year, but I have been noticing recently that Nicky has been experimenting with how things work at the moment, particularly with regard to opening, shutting and turning things on and off.
1) Opening and shutting car doors and winding the windows up and down.  I'm not a bad mom, I promise. But often when we get back from a place Nicky wants to stay in the car and practice opening and shutting the doors and winding the windows up and down. He used to love the steering wheel but now he also likes to turn the radio on. I keep checking on him, bring food to him, but with shrieks and grunts he makes it clear that he is still busy on this developmental task. Until he gets tired of it, of course.
2) Opening and shutting the gate. The other day when we were putting out the rubbish I showed him how the remote works. Much joy. He did not want to come inside but spent a long time pressing the button while the gate opened and shut. Eventually I had to call him in before he did some damage!
3) Turning the heater on and off. Last winter Nicky enjoyed feeling the warm air from the blow heater. This year he has figured out how to turn it on and off. He really gets a kick out of that.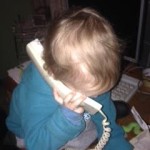 4) Moving the mouse and turning the computer screen on and off. Nicky has made the connection between the mouse and the computer screen and chortled with joy as he moved it back and forth. He then had fun turning the screen on and off. He even decided to make a phone call (not fun for my DH who was on the other extension at the time).
5) Doors. He loves to slam doors. Of course I have to help him open them again.
6) Nicky likes to turn lights on and off. It just gets tiring to hold him up to do this! This evening I got nappy boxes so that he could stand up to turn it on and off. And there was a dimmer switch too that he enjoyed turning on and off.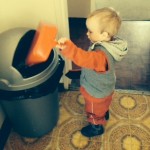 7) Opening and closing dustbins.He watched me use the dustpan the other day and then the following day he sweeps dirt into the pan and opens the dustbin, empties the dirt and closes it again!
My little explorer gets better and better dealing with his surroundings every day!
Related Posts via Categories
Comments
comments