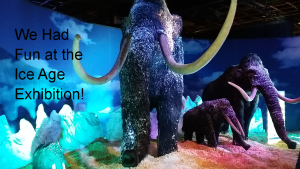 If your child has seen too many Ice Age movies and keeps pointing at the Ice Age exhibition adverts all over Joburg this winter, then you will know what to do. Dress everyone up like eskimos and head down to the Sandton Convention Centre for a few hours of fun. It is a fantastic outing for the whole family, with educational material about that time in history, animals that move and growl and fun rides for the kiddies.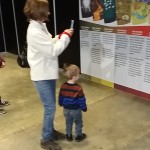 The exhibit starts with a wall of historical facts, placing the Ice Age within the eras of the earth, and explaining how it came about. They even have some fossils of the animals. I really appreciated this part because these eras were definitely part of our teaching as a Montessori teacher and at the school I worked at we used these to work out our theme planning.
The next section was full of animals. I have never seen a display like this before. All the animals had movement and noise. They were quite life-like.
Here's a video so you can get the idea.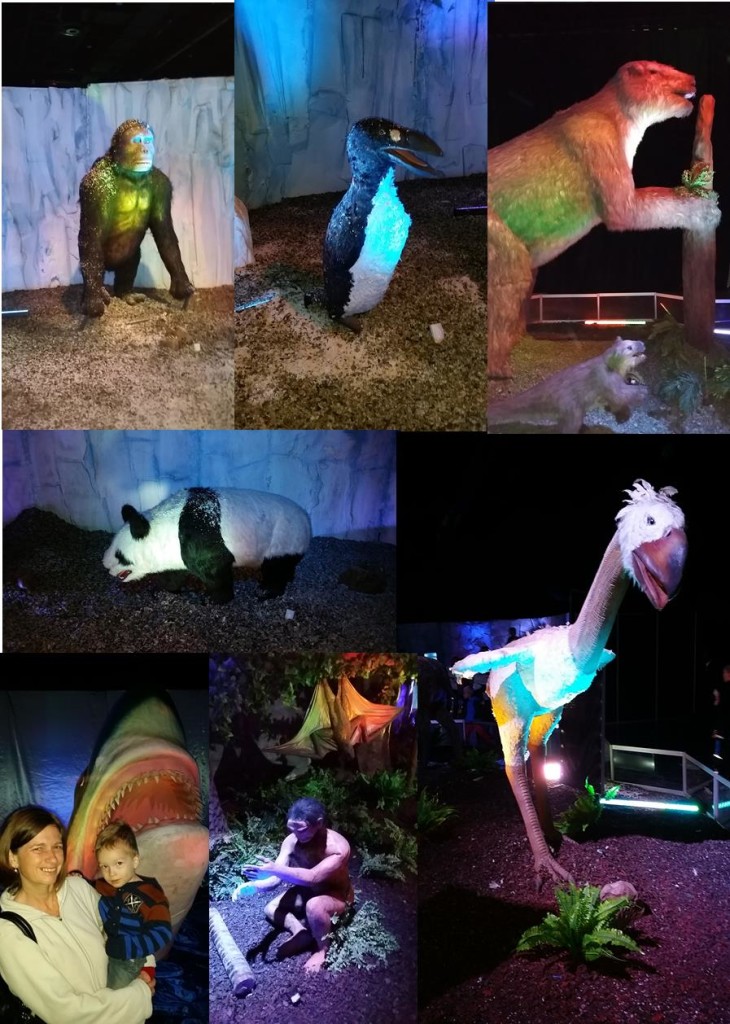 We took some pictures with the animals too. I have to give credit to my husband who is a very good photographer.
Nicky was a bit quiet and clingy in this section. I think all the  noises were a bit overwhelming. But he was interested in the animals.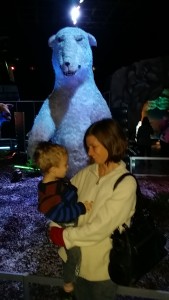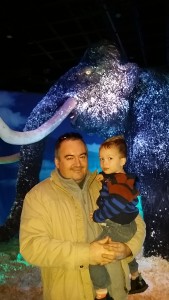 After the animals there was a snow blizzard tunnel which we moved through very quickly! Older kids had fun throwing snow at each other.
Then you get to a section where there is a lot more fun stuff to do. You can play in the sandbox and draw for free.
The paid stuff is way cooler though.
You can have a picture taken with a saber tooth tiger (R60), get your face painted (R40) and have a ride on a Glypto (R20). We decided to do the ice slide (R55 for two slides) and the carousel (R20).
The ice slide was a blast and I'm so glad we did it. Nicky was really excited about it once he worked out what was going on. He raced up that slope while we dragged the boat behind us! DH and I both took turns to go down with Nicky. There is another option for older kids to go on a smaller tube and a steeper slope as well.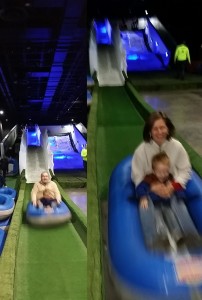 Next we went to the carousel. By this time I was a bit peckish and sent DH to go and get me a sandwich which Nicky and I munched in the queue. Please note that there are no toilets at the centre so make sure you go beforehand.
This was a really enjoyable ride for Nicky. He got to ride on a animal from the ice age on a train like contraption. He likes all forms of driving.

***
This post was not sponsored. I read Sharon's post earlier this week and decided it would be a fun thing for us to do. For more information, go to the website here.
Related Posts via Categories
Comments
comments