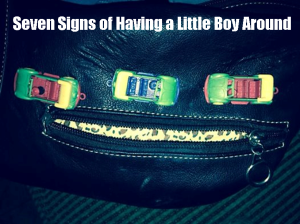 Being a mom to a little boy is a special blessing. There is a special bond with my little man and the evidence of his boyhood is all over our house.  I thought I'd share a few ways he has been showing his maleness. If you've just found out you're having a boy, or you already have one of these little wonders around, you'll appreciate this.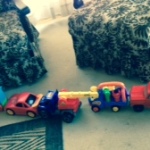 1. Cars and trucks all over. Nicky just loves cars. Even when he sees a car in a book he gets excited. He likes lining them up in rows. I had to laugh the other day when I saw a line of little cars across my handbag. Even though Nicky is sleeping right now his cars are very busy lined up in the lounge.
2. Mom has improved her knowledge of cars too. We read a lot of books about cars and trucks. I now know the proper names for various different types of vehicles and have started pointing them out when we are on the road e.g. "There's a dump truck, Nicky!"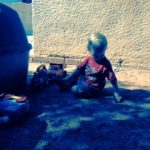 3. Nicky loves dirt/mess. He likes to take his trucks outside too and throw dirt on them. He likes to take handfuls of dirt and give them to me as a present. He likes messing around in the kitchen, pouring water and getting lots on the floor. Which brings me to my next point: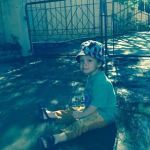 4. He loves water too. Every time we backwash the pool a puddle is created in the driveway. Nicky loves to splash in this. He often lands up totally wet and when he's had enough, cries for me to change him! Bath time is lots of fun too and many times we have to cut it short because he is throwing water out the bath.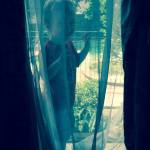 5. Shows no fear of heights. Nicky loves to climb as much and as often as possible. He also likes to launch himself, naked (after bath time when we are on the bed) in various directions. The other night he hit himself square on the head on our bedside table. Yesterday instead of napping he decided to climb onto the window sill instead. I think that parenting an active boy is not for the faint of heart. You have to alert and also understand that the need for movement and exploration will always outweigh common sense for a toddler. Just make sure you are there to catch them.
6. Loves gadgets. Every boy loves his toys. The plastic cellphone is no replacement for my IPhone. I actually hardly use it anymore because of the tantrum it induces -if he sees it- because he wants to play with it. I let him use it on the car trip home sometimes with dad, since dad is sitting on his phone too. He loves the IPad too but that is hidden until I really need it. Nicky has also figured out that remotes make the TV go on and off and sometimes indicates to them in the hopes I will turn it on (not a chance, bud, until later this evening!)
7. We don't do designer. I remember getting Nicky some cute skinny jeans and thinking they were so adorable and stylish. I think being a boy mom, you have to rethink clothes in terms of function, rather than appearance. Because we love dirt (see 3), water (see 4) and are constantly moving (see 5), clothes that are comfy and that will last are important. The skinny jeans actually hurt underneath his knees in the end. He wore holes in his pants during the crawling stage and I had to make patches. Nicky also loves painting and the apron can only protect so much. I think in the end as long as he is comfy (and dry) we're doing well.
So… what else do you think distinguishes boys from girls at this age (nearly 2.5 years old) ?
Related Posts via Categories
Comments
comments