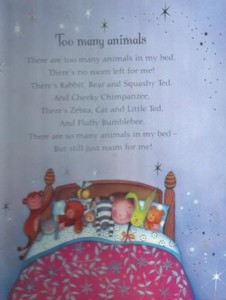 There are too many animals in my bed.
There's no room left for me!
There's Rabbit, Bear and Squashy Ted,
And Cheeky Chimpanzee
There's Zebra, Cat and Little Ted,
And Fluffy Bumblebee.
There are so many animals in my bed –
But still just room for me!
(from Bedtime Rhymes: Sam Taplin & Anna Luraschi)
This poem was taken from a book my mother gave Nicky. He likes the book: it's a nice book to read when going to bed because it goes through the routine from bath to stories to a soothing yawn enhancing poem at the end. This poem is in the middle – a funny piece with way too many animals in the bed.
Our latest trip to the library proves the point that my son is heavily influenced by books, much like his mother, if I dare say.
We did get a book on trucks (to keep my vehicle loving son happy) but the other two are about fluffy toys.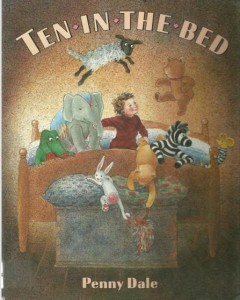 "Ten in a bed" is a really fun book and I think I'm going to  use the nursery rhyme with this version from now on. One by one the various animals fall off the bed, until the end when they all come back. We often have fun with this rhyme while Nicky is rolling around the trampoline.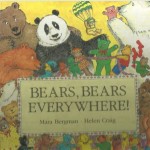 "Bears, bears everywhere" is a book about a little girl who wishes for many bears. Sure enough, they pitch up and invade her house. Of course they make a big mess, so she wishes them gone. Nicky is so cute as he says "Bye bears!" as the bears leave her house.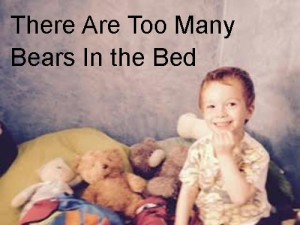 So I guess he was inspired to invade his bear collection. Nicky's fluffy toys sit up on a shelf unused in favour of all the cars and trucks. But he asked me to get them down and tucked them all in the bed. The big ones were on the top while there were smaller ones underneath the blankets.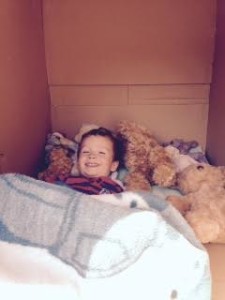 Not content with this the fluffies went on a road trip outside. Nicky was climbing in a small box and told me he wanted to sleep in it. I remembered we had a nice large one that the washing machine came in in the garage. So he went inside that with his pillow and blanket ("piwow" and "blanky"). Then the bears had to come too. As I expected, he did not actually go to sleep but had a lot of fun playing in his box with the bears.
The next thing I knew he took the bears to the slide. The bears made a nice soft landing at the bottom.
Of course the bears have been in the bed each night, mostly pushed to the bottom so that there is actually some space. Fortunately they haven't graduated to being carried from place to place; that honour is still reserved for cars.
Until then, we just have too many bears in the bed. But still just room for Nicky.
Related Posts via Categories
Comments
comments