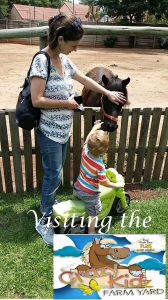 We are always looking for interesting things to do with Nicky. We have done the zoo and the Lion park many times and wanted something new. DH also only had this last remaining week off and also wanted to do something nice.  I had this idea to go look at farm animals with Nicky and so I did a Google search. I also did not want to drive far so I found something reasonably close, in Kensington B, called Crazy Kidz Farmyard.
When we got there we were thirsty and hungry from driving around so we got some juice and ice-creams from the snack shop. The snack shop basically has drinks, chips, ice-cream and toys. You only pay R25 entrance per child and nothing for the adult unless you are bringing your own snacks or picnic and then it is R10. The assistant there was very friendly and kept a tab for us.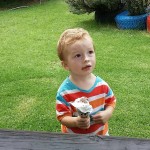 We sat down next to a play area set in sand and had our ice-creams. Of course Nicky wanted to eat and play! He found a familiar roundabout where you can sit and push yourself round.
After this he saw a scooter and insisted on taking it with as we went to see the animals.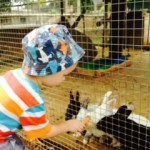 First stop was the rabbits. They gave us a few carrots to feed them with. This was a lot of fun. The only problem is that you have to make sure that the carrot is firmly in the bunny's mouth before letting go or else it falls behind the log and you have to get it out. Quite a few of them fell down and we repeated the process.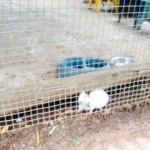 When we came back that way later I saw an enterprising guinea pig going behind the log to find a carrot piece. I think this must be a regular occurrence and the animals must learn where the food drops!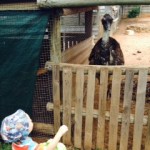 Next we went to see the ostrich and the pony. Nicky did his characteristic arm wave (Like, No Ways!) in amusement when he saw the ostrich. I think the ostrich was amused too.
Right next to the ostrich was the pony. He enjoyed a good head scratch just like our dogs and we took a few pictures.
We then went round the other way and saw roosters, hens and ducks.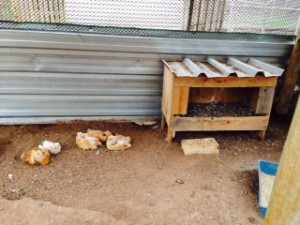 We also saw some baby chickens. I saw another hen making a hole in the barrier between itself and the chickens and wondered if it was the mom hen trying to be with her babies. You can see her feathers if you look very carefully to the left of the hen house. My heart went out to her.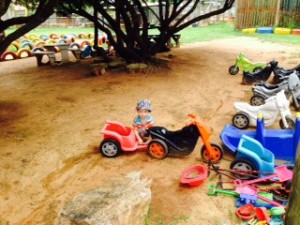 After that we went back to the play area. There was also a trampoline. Nicky, being a boy interested in vehicles, went straight for the scooters. He found a little trailer that would hook onto something and tried to make it hook onto the scooters without success. I just smiled because that is the type of thing he likes to do – put things together, and if they have wheels, so much the better.
They have a few playground areas. One is in sand with steel structures and another has a wooden structure. Chldren can choose where they want to play. There are chairs and tables for parents to sit at too.
Finally we paid our bill and went home. We actually did not spend a long time there, which is nice if you want to do something which does not take up your whole day.
(This is not a sponsored post. Views are my own)
Related Posts via Categories
Comments
comments