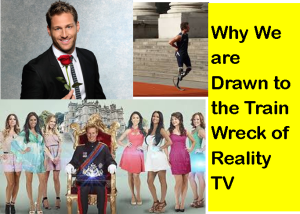 Two reality shows have recently finished their run on South African television and they had some pretty unique endings. The train wreck of watching people's lives unfold on television isn't a new phenomenon, as any seasoned ex Jerry Springer watcher will tell you. However, I have to say, that we have plumeted to new lows on "I want to Marry "Harry" ", and "The Bachelor" Season 18.  This doesn't make them any less entertaining to watch, but you have to wonder why.
From the outset, "I want to Marry 'Harry'" was bound to run into murky waters. Impersonating a prince with cameras, pretending to be a "Bachelor" situation with fake press and groupies entering at the right moments, well, I guess only gullible American girls would fall for that. We expected the train wreck from the beginning, but surprisingly, some of the girls bought the act. Even the girl who he chose in the end was fine with him not quite being royalty. The American public, however, did not buy into this show, and it was axed after four episodes. Lucky SA, we got to watch all eight, as "Harry" (actually Matthew) agonised over the deception. In the end I am willing to bet he is a better catch than the real Harry, the party prince who is one step away from rehab. Matthew actually came across as quite conservative and a genuinely nice person (apart from the deception). He is currently still enjoying a long distance relationship with the winner of the show. A good outcome from a dubious origin.
On the other hand, we expected better things from the latest season of "The Bachelor". Although, I'm not totally sure why. If your requirement for a bachelor is only that he is hot and has fantastic abs, then I think you are headed for trouble. Juan Pablo was hugely popular in the aftermath of Desiree's Bachelorette season. During his own season it initially looked like the familiar formula of romance of a man seeking his mate. (It is rather easy to be distracted from what a person is really like in far flung exotic locations on dates that most of us normal plebs would only dream about). However, when forced to spend a whole night with this man, Andi, an intelligent district attorney and, the chosen next Bachelorette, didn't enjoy it too much. Here was a guy so busy talking about himself that he forgot to ask about her. Worse was to come for one of the final two in a helicopter ride. In a throw away comment Claire still refuses to divulge, Juan Pablo insulted her and questioned their relationship.
In final episodes of the series, unlike anything we have ever seen before, where we are normally all rooting for the lovers, there was a growing sense of unease among audiences. How would this all turn out? And could there be true happiness with this guy?
Juan Pablo chose Nikki. (In my opinion she was more of the "dumb blonde" type who would have been immune to his flaws). He did not propose to her nor did he say that he loved her. While people may be frustrated with that ending and wonder if they can really be happy, I think it is worth mentioning something that Nikki said on the final show.
She said that so often you see Bachelor engaged couples who wax lyrical about how in love they are and further down the line are broken up. Juan Pablo and Nikki are much more real in a way because they are honest about where they are at. At the time of posting this they are still together, although they will be filmed undergoing couples therapy. A promising beginning and a questionable ending.
Let's also not forget the Oscar Pistorius Trial coming to an end on channel 199. To be honest I watched a lot of it at the beginning but by the end I had lost interest. Still, the fallen hero holds a fascination for many and we are still to see how this will end. (The odds are against him, though).
Why are we so drawn to watching the terrible undoing of people, falsely set up situations and men we clearly would never date?
1) It makes us feel better about our lives. Bridget Jones put the description of the "smug marrieds" rather well. We feel even more smug about ourselves watching desperate girls go for a man they clearly shouldn't.
2) It makes us complacent about and / or gives us escape from our own demons. We would never shoot our girlfriend in a fit of rage, would we? We would never be that desperate for a guy, would we? We would never treat a girl like that, would we? We would never pretend to be a prince, would we? The truth is, we all have our dark sides and, given similar circumstances would have no knowing if we would have acted the same. In fact, reality television is a good outlet for those sides we would rather not recognise.
One final word or warning and application for us bloggers: do not think that the train wreck cannot happen to you. Read Mommy Odessy's post – reflection on how her son's death and increase in site stats are often just the "rubber neckers" having a look at the train wreck to feel better about themselves. But she has emerged a stronger woman and now has a wonderful child. Cause this train may be bruised and battered, but this train keeps on f**g chugging.