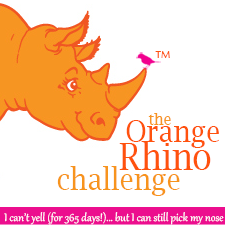 For those of you wondering how it is going with my yelling resolution after reading that book about how to stop yelling and start connecting, this post is an update on that.
Initially it was a  bit discouraging to merely tick every day off as a failure. Crumbs, I yell every day. It sucks!!!
I received a comment on my resolution post from Missy Homemaker suggesting that I try the Orange Rhino Project. On that site I found a very useful trigger tracker which I decided to try. This is the results of a few weeks.
Trigger Tracker Sheet:How to use this tool: (1) Write down anytime you yell or want to yell and fill in as many columns as possible. (2) At the end of the day, read the chart to see if there are trends (repeated emotions, repeated times of the day). Circle them. Underline anything you can easily change (ie putting cups out the night before). Box any personal triggers you can work on. (3) Choose three things to work on 1 trend trigger, 1 easy change, 1 personal trigger. (4) As you master a trigger, choose another one.
Day, Time
Who I yelled at
"Supposed" trigger.
How I felt at the time, anything bothering me?
Were kids hungry, tired, or thirsty?/ what were kids doing?
What could I have done better?
8pm
Nicky
Nicky hitting Milo.
Feeling lazy, didn't want to move from the bed.
Separated Milo and Nicky immediately by redirecting him to his truck.
6:45 pm
Nicky
Nicky throwing sand.
I was trying to feed him and he threw sand in the food.
Take the hint that he didn't want to eat.
3 pm
Nicky
Nicky hitting me.
I was trying to feed him.
Go away and calm down. Recognise that he didn't want the food.
5:20 pm
Nicky
Nicky throwing sand in Coffee's food.
Stop him before he comes inside with the sand, getting him to throw it in another bowel outside, make a game of it.
2:50 pm
Nicky
Nicky throwing dustpan and brush in the toilet.
Feeling shattered because I'd just removed him from shattered glass.
Keep toilet lid permanently closed. Recognise that I needed time to calm down.
As you can see, I modified it a bit and deleted some of the columns. But it really was for me to get a basic idea of what is going on with me and why I was yelling.
Some trends I have noticed:
1) All yelling episodes are tending to happen later in the day. The earliest recorded here seems to be 2:50pm. It shows that as the day wears on so does my patience. Not sure what to do about that, but it is good to be aware of it and take some deep breaths!
2) I am still attached to getting him to eat. I need to let this go. There is still a part of me that demands he eats my food when he is happily playing in the dirt and then I am surprised when he throws dirt on my food.
3) Motherhood is hard work. When I am lazy (unwilling to move from bed to separate boy and dog) then I guess it is my own fault that something happens.
4) Motherhood should also be fun. Making a game or finding the humour in a situation is a winning situation instead of an upsetting one. I was so angry about the soil in Coffee's food when I should have been finding ways to play with my boy and his muddy little gift.
5) I need to refuel my mom tank. A lot of the time I feel like yelling is when I am so tired myself, and emotionally exhausted to after rescuing him from certain dangers and constantly saying no to his explorations. It takes a lot of strength and I need my time on the internet, I need my sleep and other basic things like putting things away without stressing about leaving my separation anxiety prone kid. Thank God for nap time is all I can say, but some days when he has slept in the car and I didn't get my time, I really feel it. Today I coped by doing a fun swim with him which helped cool him off and calm us both down again. And much later, he is asleep.
Motherhood seems to be a learning curve and I think this Orange Rhino Challenge is a good way to be more aware of what is going on with my emotions and to better handle them.
Related Posts via Categories
Comments
comments