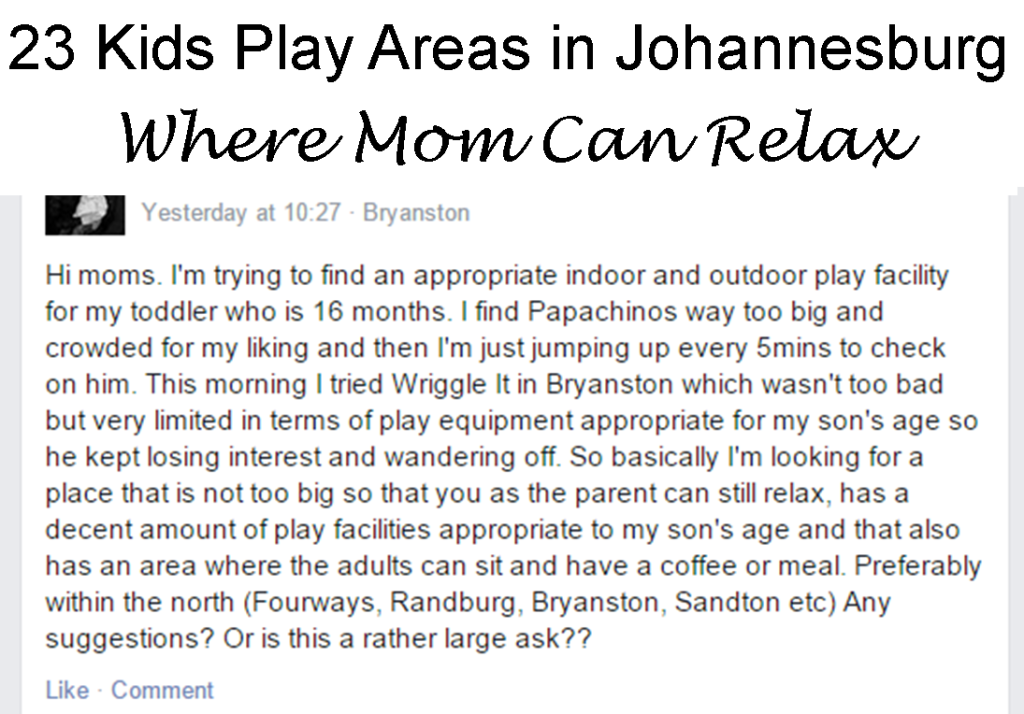 There recently was a thread on the Mamahood Gauteng group about a mom looking for places for her 16 month old toddler to play. I thought I would collect the list of places as a reference for moms who want to relax or work while their kids play.
I have put this list into two groups: those I have been to and those I haven't. The latter are recommended by other Gauteng mothers.
Place We Have Visited:
1. Primi at Lifestyle – It is a restaurant where you can sit while your kids play. They also have a TV set up with cartoons. I also went there when Nicky was a baby and they had nappy changing facilities too.
2. Bambanani in Melville. This place is amazing. They have lots of child minders and there is a huge climbing structure plus a little "shop" where they can pretend to buy things. I went there when Nicky was under two years but he sat and did some activity at a table with a child minder. They also had pottery on the go for older kids. When you get the bill for the food you can also tip the child minders as well.
3. Free Range Lifestyle (Now name changed but it's the same pretty much) – I have blogged about this awesome place – it has such nice food, coffee, bakery and shops – including an educational toy shop. You can sit right next to the 0-3 year old area. The older age group is in a different section.
4. Spur. I have been to Cresta and Brightwater Commons. Brightwater Commons has an upstairs room which even has rock climbing. They had some cool vehicles to play on – Nicky loved that. Cresta has a smaller area but it is closer to where you are sitting. They have colouring in and face painting. Nicky liked the face painting. There is an awesome structure that you climb on. Although they do have child minders, I left him alone for brief periods so I could eat and then came back.
5. Aroma Cafe at Montecasino. I think this works for a lot of ages. Nicky always grabs a scooter and rides around. There is sand, trampoline and jungle gyms. There are child minders there as well.
6. Kidzworld at Blackheath. This is a huge play area with castles, tunnel slides and trampolines. You can sit on different sides. I found on the one side you couldn't really see where your kid was between all the play things. On the Spur side it was more open but I still had to go and give Nicky (around two years old) attention and help the whole time. He refused to go down the tube slide without me watching right there! (So no child minders). I think this is still a great venue though. (On the other side they did have scooters!)
7. River Cafe at the Field and Study Centre. Lots of areas to play, jumping castle, huge sand pit… and yes, scooters. I did have to keep jumping up and down though – no child minders. This cafe is right next door to an awesome Montessori Preschool if you are looking in Sandton.
8. The Pear Tree in Craighall- they do your hair and nails. They have a yoga/ pilates studio but I'm not sure when it is starting. The coffee shop is situated a level above the play area so it is kind of separate but you can still see your kid. I blogged about it here.  They do have child minders on duty and free wifi. UPDATE: They no longer have the play area! But you can still get your hair and beauty done there.
9. Little OTs. I just found this last week. It is in Fountainebleau village. There is a coffee shop and two play areas. Also a drop and shop if your kid is older than four. Their website is  here. Free wifi as well. I will update this entry with more information once I've actually been there. UPDATE: We love this place. Have been there three times now and I get two hours of work done while someone else looks after my kid. We have sandwiches and tea, Nicky has an Oros. (You need to make sure they have socks)
10. If you want to look at farm animals as well, visit the Krazy Kidz Farmyard. I blogged about that here.
Recommended by other Gauteng moms: (with their comments)
11. Orange Tangos at Heathway
12. Mikes Kitchen in Bryanston apparently has excellent child minders.
13. D'Oude Werf in Broadacres
14. Smile Cafe in Cedar. Commentator made this statement on Facebook: "But I don't like it for my one year old because the big kids push her around and you don't sit with the kids, you just see them on big screens. But maybe your toddler would fair better."
15. The Oak Leaf Country Restaurant
16. Picolinos on Witkoppen road. Commentator says : "just after the buzz shopping center, a complete separate area for kiddies with child minders and lots of activities and they do yummy pizzas".
17. Pannetone at Zoo Lake. Commentator says:  "lovely play area with child minders and good food and view of cricket fields".
18. iPlay in Randpark Ridge. Commentator describes how to get there: "Just across the road from Randpark Ridge Mall entrance, next door to optometrist."
19.Happily Ever After in Bedfordview.  "Really nice food".
20. Mami Paradiso Centre Commentator says:  "I haven't been there yet, but want to go soon – it looks amazing! Restaurant with play area PLUS places to do nails, hair and massages while they look after your kiddies!! Sounds like heaven.." UPDATE: I have been there. I had my hair and toenails done. Lovely people. Just that Nicky was being so clingy that day I didn't really get much of a break but they do have childminders and eats.
21. Something Country in Muldersdrift.
22. Harvard Cafe at Grand Central Airport in Midrand.
23. Papachinnos. (Midrand recommended)
*This list is by no means exhausted. I welcome your comments and suggestions in the form of feedback on these places as well as any other places you recommend.*
24. I just remembered Annica's in Ferndale. They have an outside area where you can sit. What is nice is that the jungle gyms are close so you can call out your encouraging remark to get your kid down the slide and still hear the conversation.
***
Are you visiting this blog because you are looking for fun places for your child? Subscribe to this blog and I'll keep you updated on kiddie events in Gauteng. Plus you'll get loads of freebie info on fertility, pregnancy, baby, toddler and preschooler.
Also, check out my other blog SA Mom blogs – normally every Friday I do a "What's On for Families This Weekend".
Related Posts via Categories
Comments
comments