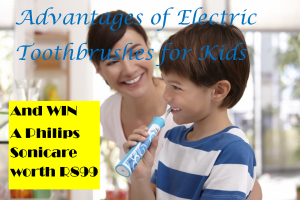 My heart was touched the other day. Some food had gotten stuck in my tooth. Nicky ran off to the bathroom to fetch one of the interdental brushes I sometimes use. He is really becoming more aware of objects around him and their uses. He will fetch one when he has things stuck in his teeth too, although he needs help to get it out. He even tried to floss the one time (yards of floss all over, as you can imagine).
I have been having a really bad time with my teeth. I have been going through an on-going root canal. You'd think it would be over in two visits, right? Nope. The dentist is struggling to get to a nerve. I have to go back again. This is why it has been easier for me to give up sweets.
Anyway, I digress.
With World Oral Health Day being the 20th of March and Easter on the horizon about to give us lots of tooth decaying chocolate, maybe it's time to look at the oral health of our kids.
We have been using a manual toothbrush with Nicky. There are advantages, however, to using an electric one for kids, and I think I should try it out.
1. Better cleaning. Electric toothbrushes have superior plaque removal.
2. Easier to use. Instead of doing all the brushing yourself, you just guide it along. You do have to supervise under 3's using an electric toothbrush though.
3. Can help those not able to move properly.
4. Kids with oral, feeding or sensory disorders enjoy them because they crave sensory input. 
5. All the gadgets (music, colour, vibration) add to the fun experience of brushing teeth.hh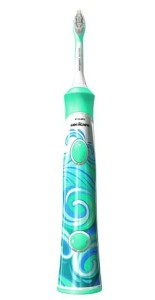 Today I am giving away a Philips Sonicare for kids rechargeable powerbrush worth R899. It is apparently the "Ferrari of electric toothbrushes" according to their website. It is suitable for children aged 4 to 10 years.
It operates at 31 000 brush strokes per minute.
Oh, and "all the gadgets"? There are musical chimes, a KidPacer and eight inter-changeable covers.
A great kids size head and handle – easy to manage.
You can buy them at DisChem, Clicks, dentists and selected pharmacies.
If you want to win one, enter below. You must be a resident of South Africa.
Related Posts via Categories
Comments
comments