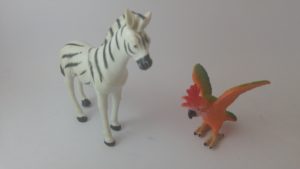 Parrot and Zebra are two bath toys that I have been meaning to write about for some time. They are special little plastic friends Nicky has been playing with for years and they hold a special place in our hearts. They are also a means to play out any stories or issues Nicky is dealing with and they provide much needed play therapy at the end of many a day, along with various other toys.
The original reason behind my buying them was educational. I was going to teach him "z" for zebra and "p" for parrot. I had various animals in different boxes grouped according to their letters. But Nicky got hold of them, they went into the bathroom, and there they have stayed. When I mentioned taking Parrot to school for some or other lesson, he cried quite plaintively, "But Zebra will ask – Where's Parrot?" and that was the end of that.
Zebra and Parrot also come with us on holiday when we travel. I have found it helps to have some kind of security of some familiar items, so they get packed in with the bath things. Last time Nicky gave them soap to eat. This time Parrot was flying up to a far away hook.
Nicky has some plastic bottles in the bath where I have cut out a door and we have made rockets. Parrot and Zebra have had many adventures going to the moon where they drive around on a moon buggy, obtain some moon rocks, plant a SA flag, watch some TV and then go home. (Not sure why they are watching TV on the moon, but hey…)
They have also been in many boat trips in ice cream containers. Various animals take turns steering and being rescued.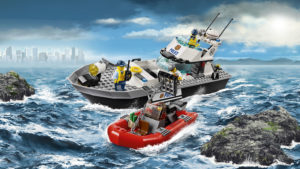 Nicky's birthday present from DH was a lego police boat. He has wanted this thing since he saw it in action on a YouTube video. We have visited the Toy Shop many times and looked at it, and then finally his birthday came and we built the boat. Quite a complicated thing but now Zebra and Parrot can travel in style even if they are a tad bit big for it.
Anyway I bring this boat up because it was the subject of some intense play the other evening.
Nicky had a new Lightning McQueen lego toy. Now this car has some place on it where the lights can be stuck on, and since he likes blue, he has been taking the lights from the police boat to put on his cars.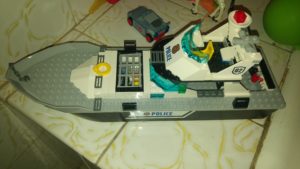 He got home and the first thing he did was go to the bathroom and get some lights for his car from the boat. I didn't think anything of it at the time.
That evening, however, he gets Zebra and Parrot to check the boat out very unhappily. Apparently the police are not happy that someone has been stealing their lights. Much discussion ensues, and since it is my turn to be the voice of Parrot, I get Parrot to say that it was Nicky taking them for the new red Lightning McQueen!
Nicky denies this and says it is the other Lightning. (The grey Lightning from his other birthday set).
After bath time, we try and figure out what to do about this situation. And how Parrot and Zebra and the boat can go and confront Lightning.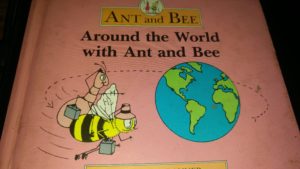 Nicky has been reading another cute book about Ant and Bee. Ant and Bee go around the world (Bee carrying Ant) in search of Bee's umbrella. (Or as Nicky would say, Sunbrella. He calls Parrot and Zebra "Pawit and Zeebra")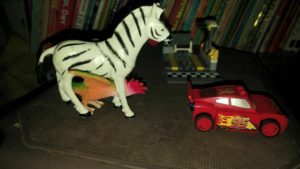 So if Ant and Bee can do it, why not these two? Zebra gets on Parrot and off they go. They find the red Lightning with some blue lights and confront him. But Nicky opens up his lego box to show the grey Lightning has the lights too. And off he goes to put the lights back.
Order is restored.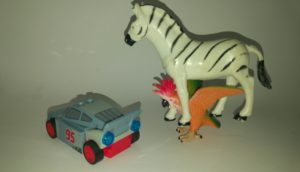 I hope to experience many more imaginative episodes from these two toys and more.
Because I love to watch Nicky play.
Related Posts via Categories
Comments
comments