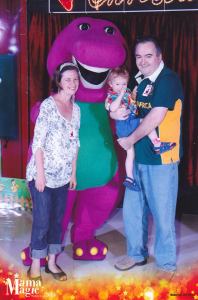 These days I seem to be very lucky with winning competitions on blogs. I won a meet and greet with Barney through the Blessed Barrenness, Sharon van Wyk.
I've actually been keen to go to the Mama Magic Show just to check out all the cool things for toddlers. This show is not just limited to babies, although there is a lot of baby stuff there, but also caters for kids right up till six.
The main drawcard of the the show, however, is that purple dinosaur. I mean, it even features on the logo. Kids love Barney. I remember when I was a teacher a four year old recited the whole theme tune to me. He is a friendly, caring dinosaur with lots of personality. What's not to love?
I try not to let Nicky watch much TV but when Brett is working late I do put on CeeBeeBies. He really likes the bedtime hour and especially Teletubbies. We haven't watched Barney in ages so I went on a bit of a mission this week to try and find the program. I found it on a channel called "Jim Jam" and also found Bob the Builder at the same time (Nicky loves those books). So eventually we did get to watch it a bit so as to remind him who Barney was. I was a bit nervous, remembering my teaching days when little kids do get scared of big monsters, so I wanted to do as much preparations as possible!
I need not have worried. When Barney came on stage Nicky was positively jumping up and down with excitement. (I think the Mama Magic crew were pretty good at building up the hype too). What I did find interesting, with this young audience, was although there were kids enthralled throughout, there were also a lot who lost interest soon, with that short concentration span at work. After a bit Nicky decided it would be more interesting to lie on the floor and also play with another kid who was dancing around.
Here is a video of Nicky clapping along to a Barney song:
And here he is hugging Dad while they listen to Barney sing "I love you":
Afterwards we were lucky enough to meet Barney and have a photo taken with him. Definitely a moment to remember.
***
I just wanted to say a quick word about some of the nice things I saw at the show. I really wanted to take time and see everything but a number of events conspired against me to make the time really short (our dog having an operation at the vet that morning, Nicky having a bad night and needing to sleep in plus having another party to get to on the same day as well).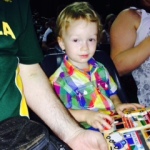 As I walked in I saw some really cool toys from Toddler's Warehouse which I knew I'd want a closer look at. Of course I had to ask if they had anything to do with cars (Nicky's passion) and I got this super board with movable cars (Melissa and Doug brand). The cars don't come off. They cannot be thrown or lost. Yay. The idea I had was to keep him occupied with this board while we waited for Barney. The board did not last long but I think it has potential once he is able to understand about where each one must go and how they are moved around. At the moment he was just wiggling and jiggling them, which of course was fun too.
The other item I bought was an insect balm from Oh-Lief. Nicky has really been having a problem with insect bites and I have been trying everything. I got something from Baby City that makes ultrasound waves that is meant to drive the insects away, and no luck. I have been putting on Peaceful Sleep – not helping either. Poor little dude is covered in bites under his arms, on his tummy and between his legs. I have smeared this stuff on after his bath and hope it does the trick. It smells nice, goes on like a cream, and it has citronella in it.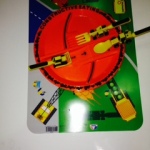 The last item I didn't buy but I really liked was a plate that had utensils like cars from creative eating. I think this is so brilliant for fussy eaters. Nicky liked it too. I am finding now a days that he is less fussy with food, although he still picks what he wants here and there, it isn't like he isn't eating at all anymore.
There were a lot more stalls and I wish I had time to fully investigate all of them!!!
Thank you Sharon and Mama Magic for a super experience. We really enjoyed ourselves.
Related Posts via Categories
Comments
comments