You know that song "They tried to make me go to rehab and I said no, no, no…" In our case rehab is something we have really been looking forward to, getting out of hospital, so it is more of a case of "Yes, yes, yes!" And thank God we have made it.
My father is in rehabilitation! What a milestone! He went from hospital in an ambulance to the rehab facility on his birthday, the 5 September.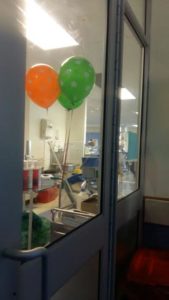 The fact that he has made it so far is definitely a cause for celebration and the ICU at St George's gave him quite a send off, together with balloons which he took along with him.
I had a look around his room through Skype and it looks like a room, not a hospital. There are cupboards and a desk. He even has a window to look out of.
It hasn't been all plain sailing of course, he still has some medical problems along the way but he gets through them. One bad one happened on the third night he was there. He was struggling to breathe and the doc had to be called in to get mucus plugs out of his lungs.
We are so not out of the woods, by any means, but we are so grateful for his life and that he has made it this far.
The therapy is hard work. But fortunately the doctor in charge has given strict instructions to have rest times inbetween. He needs to rest.
There was a family meeting with all the therapists this week and it was good to hear a bit from everyone. I was able to participate through listening through the phone.
Right up front the doctor made the point that we are travelling an unknown road. Perhaps they haven't seen anyone my dad's age in this specific circumstance. She also said that we should focus on the present and not dream too big.
She said that my dad has come a long way in terms of his injuries which fractured his ribs, cervical and thoracic spine, and sternum, as well as badly damaging his lungs particularly on his right hand side. The cardiac and respiratory issues were highlighted, specifically the problem of his strength and endurance.
She highlighted that the tracheostomy (the hole in his windpipe that previously helped him breathe from the ventilator) now has two functions – not just breathing but also to protect the airway when he is unable to swallow, and enabling excessive fluid in his chest to be suctioned out. When he is able to have that removed there will also be improvements in speech and swallowing. He is now able to speak through a speaking tube as well which has been an incredible milestone.
She said we should also focus on little improvements and be encouraged by them. It is a slow process and a long road, where rehab actually continues for the rest of his life.
The OT was focused on practical goals my dad could achieve: such as sitting in a chair, feeding and grooming. She has the goal of getting him into a wheelchair within the next month or two. The idea is to create small steps to independence and managing his new body.
The physiotherapist talked a lot about his lungs and how she is working on that side of things. The nursing staff assist with nebulization before she does her work of getting the stuff out of his lungs.  She is seeing him three times a day. Initially the right lung was the problem and now apparently it is the left. I liked her because she mentions that she does go home and worry about him. So it touched me that she cares.
The speech therapist was unable to be there but someone else spoke for her. It is all about finding the techniques that will work for my dad and obviously they will improve once the trachy goes. They did say that the lip and swallowing muscles were still good.
We then had a lady from Discovery give her input on how they will help with relevant equipment (I am assuming wheelchairs) and medication. They will also help with home care for a limited period but I am not sure for how long.
My dad did speak a bit and what he said really touched me, because he was just about thanking everyone. He expressed gratitude for all the people praying all over the world and I think he is very appreciative of that. He also mentioned my mom and thanked her for being there "through thick and thin". And she has certainly done that.
Related Posts via Categories
Comments
comments