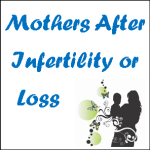 Welcome to my first person in my new series on mothers after infertility and loss. Eleanor hails from the friendly city of Port Elizabeth (where I was born) and has a touching story to share with us. You can go over to her social media and blog links at the end.
As of pretty recently I'm a WAHM which means I freelance, write and create for my soon to be launched online store with a kid attached to my leg. I love crafting and spending time with my family, I talk way too much and trust too easy but hey, that's who I am.
I wish I could have a romantic, cute meet; I don't. Rob (the husband) was in the army when his cousin gave him my mxit details; she thought we would hit it off as friends. We were both single but going on dates with other people and would fill each other in on dates and things; it became that we couldn't end a day without chatting, and I'd come home from hanging with friends and couldn't wait to chat to him… I saw him for the first time 6 months after we met and I thought he looked scary, all bald head and army uniform, but there was a gentleness to his spirit, I felt safe… What sealed the deal was when I was very sick and he ended up walking 10km in army boots with his bag on his back just to catch a bus to see me… We laid eyes on each other for the first time Dec 2007 and were married Dec 2008… He left the army and the rest is history, sort of… He became an industrial fire fighter and then a detective. I went from entertainment reporter, to fashion and lifestyle, to head of layout and design to news reporting and now trying to type quietly so I don't wake a 2-year-old.
This is exactly what I wrote when our first born Logan died 3 years ago. I know it's long but I don't know how else to share the story. Rob had just that day finished police college and we were ecstatic to bring our baby boy into the world:
Our baby died, it's a hard message to convey, surreal, unbelievable, scary.
Logan was with us for just a day and a half, that's it, he was loaned to us and was so special God couldn't bare to be apart from him.
Last time I updated I was soooo excited about doing a 4D scan, we would finally see our little man, and we did, the scan was incredible, the radiographer referred to him as the busiest baby they had ever scanned and definitely one of the cutest, he wriggled around, covered his face, playing peek-a-boo and made both Rob and I melt inside.
I left the office on Monday on cloud nine, telling my friend how it was the best day EVER! I received my new phone, saw the scan and was on my way to a early supper with my husband.
When I got home I rushed to show scan pictures and videos to my parents who were equally elated. How exciting in a few months this little busy body would be in our arms; but life had other plans.
That night I suffered from stomach cramps. It gradually became worse and I had no choice but to go the emergency room. Still convinced I had just eaten something dodgy, the doctors set up a few tests, and that's when they found out, I WAS IN LABOUR!!! I was having contractions and pain set in hard and fast, suddenly I was fully dilated and being rushed to the labour ward.
Pain and blood: that's all I remember, My placenta had ruptured and with every push all I got was blood clots and pain. My water was broken but was stained green (still waiting for test results). All I knew was I was going to do what doctor said, push through the pain and stay calm.
My placenta had ruptured, a rare condition which causes your placenta to become unattached to your uterus: no warning no nothing, suddenly me and my baby were in critical condition.
"I want my baby!" I shouted, but the doctors wouldn't make eye contact, the message was clear, he was not going to make it. "I want my baby!" that's all I could remember thinking, with Robin at my side, holding my hand and praying non stop, I weaved in and out of consciousness. I had lost a lot of blood and having a rare type, this meant more blood had to be rushed from another hospital. In a bid to save our lives they did an emergency cesarean, cutting me from my belly button down. The baby was taken out and I still had no idea how he was; the sad faces around the operating table gave me no hope and I immediately passed out.
Rob tells me I wasn't doing well, weaving in and out of consciousness begging for my baby. I was told Logan was alive and my fight started. My body was weak and extremely painful, every movement was pure agony, but I was going to do anything to get well for my baby. I took the bare minimum when it came to medicine in a bid to stay awake for him and tried to stay as upbeat as possible.
Meanwhile Rob did the rounds, spending half his time with me in ICU and Logan in NICU where he was still fighting for dear life in an incubator. Rob would send me pics and videos and I swear from the moment he heard he could have lost both of us he didn't eat or sleep, he just stayed by my side and Logan's, being there for "his family" (He took pics and videos so we could see each other).
The Tuesday Logan was fine and I was getting better. He was kicking around and all diagnoses looked good – my tall handsome boy would be ok, I'd see him the Wednesday and sing to him like I did while he was in my tummy, he would hear my voice and be okay. But that was not meant to be, despite trying my best, I could not get there in time and my angel was taken away.
With my grief stricken family looking on (still amazed that I had made it through) they brought my perfect little man to see me, the spitting image of his father. In every way he had the same fighting spirit as his dad, but his body was just too small, not formed enough, weak as he was, he couldn't fight off the bleeding on his brain and his organs which gave up slowly after.
In a way I think he saved my life, if it wasn't for him I would never have come to the emergency room (not a fan of doctors) and if I didn't have him to fight for I would probably have given up on the operating table, but him and his father kept me strong.
They still do; his dad hasn't left my side except under heavy protest and he has been my pillar of strength.
This is all a bit much at the moment, hardly an hour goes by without tears and like someone told me, we will never get over this: just learn to live with it. For now I'm in pain physically and emotionally but I know God will heal wounds 🙂
We gave Logan a beautiful send off (They let me out of hospital just in time) and although I'm practically confined to bed the future looks a little brighter each day.

My family is basically me, Rob and Aidan with little Logan looking on from heaven. I often get asked when we will add to the threesome, but Aidan came into the world quite traumatically another emergency c-section. He couldn't breath, I was in ICU he was in NICU… So right now I'd rather be a whole mom for him than risk him losing me trying to give him a sibling. I might change my tune, but right now I'm very happy. Aidan is my world, he is smart and annoyingly independent and I love him to pieces.
How has this loss affected your parenting?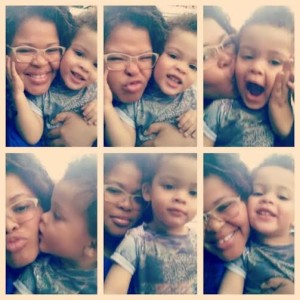 My late aunt said at the time that this makes you or breaks you and luckily for Rob and I it made us, we grew closer and we knew from the start what the plan was. We wanted a child, we would try and if it didn't work we would adopt, we had love to give and we would… so I always knew I had his support.

I remember deciding to have Aidan and I recall the fear I had carrying him, I struggled to get attached. I had to deal with people's opinions and the risk from my blood clotting and my scarred uterus. I just wanted him to be here already, but even then he was sick and I had to watch him in NICU, I struggled to feed him after he was fed through a tube for a while, he struggled to breath, it was hard. I could not let myself connect with him. I felt so inadequate and kept thinking you see why Logan was taken! You can't even burp, feed, put to bed, Logan is the lucky one look at poor Aidan… I didn't sleep I just stared at him in his crib, he had bad reflux and I kept thinking he could choke. I wanted so badly to do right by him, I can hardly remember most of the first few months…
How do you find it affecting your life, even now?
I still get the most morbid thoughts, like I take note of things and think; if he died we could play this song, he likes it, if he died he should wear that he loves it, I must make sure I put this toy in with his coffin. It's insane I have to snap myself out of it, I think it's because I didn't have pictures and things with Logan so I just want to keep every little thing, just in case…I go to worse case scenario in my head a lot like I hear a car screech and I think, "Oh no, they hit Aidan, he is dead…" But this isn't a ongoing thing it's these little "Hey – snap out of it!" moments, most of the time the loss works in a more positive light, I appreciate him, I adore every moment with him and I realise how fleeting it is, it has also made me more sensitive to what I say to people… I had awful things said to me like: "You should be over it by now", "You are using his death for attention", "You should be glad it's over", "Really, you are so selfish, just have a baby, I'm sure you won't die man."… So whenever I hear of something like this I give my email address and give the mom an ear, because sometimes we just want to say our kid's names without being judged.
It's worth it, yes it's hard and it sucks and very few people get the pain of a single strip on a pregnancy test and even less know the pain of putting your hopes, dreams and heart in a tiny white coffin and burying it in a cold coffin or having a urn of your child's ashes (or not even getting to have a proper send off) , but trying again is worth it, no matter how you do it… pregnancy, surrogacy, adoption, fostering… Once you have a mother's heart you are a mom and that love needs somewhere to go 🙂 But if you don't want to that's up to you too 🙂

Thank you, Eleanor, for sharing your story. You can connect with her through her blog and social media links here: 
Related Posts via Categories
Comments
comments